New drug dog named in honor of fallen officer
Friday, June 22, 2012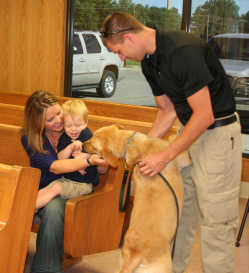 The Trumann Police Department welcomed a new officer to the force this week, a two-year-old labrador retriever named Blue.
Blue was donated by Bluestreak K9 as part of a drug dog giveaway. She is a rescue dog, trained by Blake Bristow as a single purpose dog to pinpoint drugs.
Bristow, a Jonesboro police officer, is the owner and trainer at Bluestreak K9, which he established in 2011.
Trumann Police Chief Chad Henson said it was Bristow's idea to let the family of fallen Trumann police officer Jonathan Schmidt name the dog in memory of Jonathan.
Schmidt's widow, Andrea, said she and the kids had a name picked out for the dog soon after they received the phone call asking them to come up with a name.
"Blue was Jonathan's favorite color, so it's only fitting that our next officer will be Blue," Chief Henson said.
"This dog has got, what we call in the police force, drive," Chief Henson said. "That means she wants to do more than a regular dog. She wants to help. This dog will be a tool, a police officer, and will start next week."
Blue has been trained to find heroin, methamphetamine, marijuana and cocaine.
"A typical K9 is trained overseas for three weeks to three years," Chief Henson said. "Those run from $8,500 to $12,000, so we recognize what an awesome gift this is."
Henson said the K9 officer's car will have the Bluestreak K9 logo on it in appreciation of the donation.