Crouch family named among 2012 district winners
Friday, June 29, 2012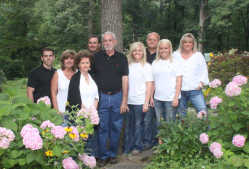 The Gene Crouch family of Harrisburg, who were recently named Poinsett County Farm Family of the Year, have been announced as one of eight district winners for the 66th Annual Arkansas Farm Family of the Year program.
The Arkansas Farm Bureau announced this week that Gene and Mary Jo Crouch have been selected as the winners of the Northeast District. The Crouches grow rice, soybeans, and wheat on 3,290 acres. They have two children, Gregg and Rhonda, and three grandchildren.
Gene Crouch said it was an honor to be chosen for Poinsett County's Farm Family this year. "It's unexpected and unvbelievable," he said. "I've had a lot of leadership from up above. In everything I do, I ask for guidance. I've got good kids and grandkids, put God first, and go to church regularly. I've been so fortunate, that's the least I could do."
The district winners will be judged to determine a state winner, which will be announced at the Farm Family of the Year luncheon on Dec. 6 at the Wyndham Riverfront Hotel in North Little Rock.
Other district winners include:
*Keith and Jill Jones of Palestine(Lee County) in the East Central District. The Joneses grow soybeans, rice, corn and grain sorghum on 2,000 acres. They have two daughters, Maggie and Elizabeth.
*Tom and Margaret Vanemburg of Desha (Independence County) in the North Central District. The Vanemburgs grow corn, soybeans and wheat on their 312-acre farm. They also have 92 head of beef cattle and raise 1,260,000 broilers annually. They have three children, Kip, Jeff and Aaron.
*Scott and Cassie Davis of Prairie Grove (Washington County) in the Northwest District.The Daviseshave 223 head of dairy cows and grow mixed grass/Bermuda hay, wheat and rye silage, and sorghum silage on 650 acres. They have two daughters, Lily and Ella.
*Jared and Holi Holzhauerof Gillett (Arkansas County) in the Southeast District. Jared and Joli Holzhauer own J&J Holzhauer Farms. They grow corn, soybeans and rice on 2,017 acres. They have three children, Ethan, Kelsey and Kara.
*Perry and Colleen Watkins of Banks (Bradley County) in the Southwest District. The Watkins raise 40,000 breeder hens for the production of broiler hatching eggs.They also have a 20-acre pine plantation. They have one child, Alex.
*David and Miesha Carver of Lockesburg (Sevier County) in the West Central District. The Carversraise chickens, commercial cows and stocker calves. They also grow forage and hay on their 430-acre farm. The Carvers have four children, Matthew, Kayleu, Lauren and Aubrey.
*DeSalvo Family of Center Ridge (Conway County) in the Western District. The DeSalvos farm 1,300 acres, with almost 900 acres devoted to wheat silage, sorghum Sudan silage and Bermuda hay. The rest of their farm is devoted to 350 head of commercial cows, 150 head of registered cattle and 30-40 head of registered bulls. They have two children, Benjamin and Isabella.