Trumann sponsors Paint Your Home project
Friday, June 29, 2012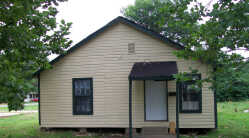 The Trumann Time to Shine project will sponsor a Paint Your Home Project for residents of Trumann. This project is designed to assist citizens of Trumann with materials and labor to paint their home. Some minor repairs will be considered.
To qualify applicants must be a homeowner inside the city of Trumann. The house must be their primary residence. Applicants must be willing to have before and after photos taken and have proof of ownership of property.
According to local realtor Tinker Hulsey, the appearance of all homes in a neighborhood has a direct bearing on the value of the home. The more people keeping up the outward appearance of their homes the more valuable a neighborhood becomes.
Painting a home's exterior alone can increase the value by as much as $10,000 as well as preserve the exterior of the home. This project is designed to help Trumann homeowners maintain the value of their home. The more people involved in this project the better all neighborhoods in Trumann will be. Residents are encouraged to talk to their neighbors who might need some assistance and tell them about the project.
Local groups looking for a community project are encouraged to contact either Bridget Bean at the Democrat Tribune, phone 870-483-6317 or email bbean@democrattribune.com, or Mayor Sheila Walters at City Hall, phone 870-483-5355. Applications for the project are available at the Democrat Tribune or City Hall. The deadline for submitting applications is Aug. 31, 2012.
Trumann Time to Shine is sponsored by the City of Trumann and the Poinsett County Democrat Tribune. The recent Trumann Time to Shine cleanup was a success and received high praise from the state. The Paint Your Home Project is a continuing part of the plans for the year. There will be trees planted in the city in the fall.