1039th Guard deploying to Afghanistan
Friday, June 29, 2012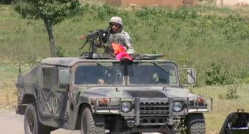 Approximately 100 members of the Harrisburg based 1039th Engineer Company with the Arkansas Army National Guard's 875th Engineer Battalion will soon be deployed to Afghanistan.
The company completed the home station phase of their pre-deployment training last month at Fort Chaffee. Soldiers will leave this week to begin two months of additional training before going to Afghanistan, where they will be charged with clearing the roadway of improvised explosive devices (IEDs). According to officials, IEDs along roadways pose the highest risk to convoys transporting personnel and equipment in Afghanistan.
In 2006, the 875th deployed its entire battalion of over 400 soldiers to Iraq and were credited with clearing 1,244 IEDs. The 875th's Jonesboro and Paragould based 1037th Engineer Company of 200 soldiers deployed again in 2008 to Afhganistan where they spent nine months and cleared the roads of 120 IEDs.
A Send Off Party will be held for the members of the 1039th this Friday, June 29, from 1-2 p.m. at the Jonesboro Armory.