McCrary inks with Lyon College
Thursday, July 5, 2012
Jagger McCrary signed a scholarship to continue his baseball career at Lyon College last Thursday at Marked Tree High School.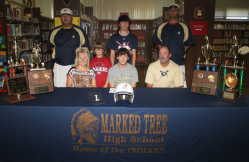 McCrary capped off his senior season with the Indians by compiling a 10-2 record on the mound. Marked Tree finished the season with a record of 27-9 and advanced to the quarterfinals of the state tournament. During McCrary's four years of high school baseball, Marked Tree had a recored of 101-32 with three 2A-3 district titles.
"It's exciting," McCrary said after the signing. "It's a good feeling to know that I will continue to my baseball career beyond high school. I'm pretty passionate about playing baseball," McCrary added.
Coaches Mike Wages, Derek Drewitt and Waylon Dunn all had the same to say about McCrary in he did whatever was needed at any of the practices. He was a leader on and off the field.
McCrary offered this about his visit to Lyon, "I worked out with them and liked it and it hit home right then this is where I wanted to play." "It's a small college with not a lot of people, made me feel like it does in my home town."
McCrary isn't sure what position he will play in college but said, "I just want to get better as a player and as a person."
When asked what he will remember most about his high school playing days, McCrary's response was simple, "All the winning."