1039th depart state after sendoff ceremony
Friday, July 6, 2012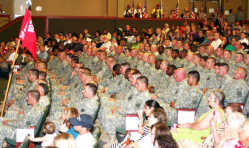 A huge crowd packed the Valley View Fine Arts Center in Jonesboro last Friday for a sendoff ceremony to honor the Arkansas National Guard's 1039th Engineer Company based out of Marked Tree and Harrisburg. The unit departed Saturday for two months of mobilization training at Fort Bliss, Texas, to prepare for their upcoming deployment to Afghanistan. The unit is anticipated to spend nine months in Afghanistan clearing the roadways of improvised explosive devices (IEDs) in order to clear passage for convoys moving personnel and equipment.
Major General William Wofford, the adjutant general of the Arkansas National Guard, addressed the soldiers, families, friends, and veterans in attendance. "It's evident from this crowd that Northeast Arkansas looks out for these soldiers," Major Gen. Wofford said. "The soldiers you see before you today, every one of them volunteered. Seventy-five percent volunteered after 9/11. They joined knowing full well our country was at war. The other twenty-five percent were determined to stay and serve their country, even at the risk of deployment."
Forty of the approximately 100 soldiers being deploying with the 1039th have deployed at least once on one of the battalion's previous deployments, and about a dozen have deployed twice or more.
"The primary strength of our military is the people that support us," Major Gen. Wofford said. "Looking at this crowd, you've got a lot of support. Without this support, our soldiers couldn't do their job as good as they do. Departure ceremonies are never easy. It's a tough day, but we've got to get past this day so we can enjoy that welcome home."
The Engineers will deploy with both a route clearance mission and a mission to assist in training the Afghan National Army.
The unit mobilized as part of the 875th Engineer Battalion from May 2006 through September 2007, charged with a similar mission during Operation Iraqi
Freedom. During that deployment, the Jonesboro based battalion's 400 soldiers cleared 1,244 IEDs and saved countless lives in the process.
This mobilization of the 1039th will be the third deployment of one of the 875th's subordinate units since that initial deployment of the entire battalion.