Main Street Arkansas representative talks downtown revitalization in Harrisburg
Friday, July 6, 2012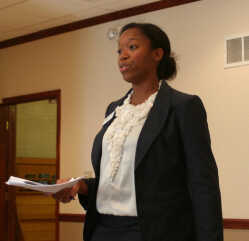 Samantha Evans, Main Street Arkansas assistant director, met with residents of Harrisburg at the Chamber of Commerce last week to talk about the Main Street Arkansas approach to downtown revitalization.
Evans visited downtown Harrisburg earlier in the day and was impressed by what she saw. "You have a really good starting base," Evans said. "A lot of downtowns wish they had what you have."
Evans praised the Festival on the Ridge and the Poinsett County Historical Society, based in Harrisburg, as things the city is already doing that can be used to their advantage in revitalizing downtown.
Main Street Arkansas began in 1984 in five communities and has grown to include 17 certified communities. The Arkansas Downtown Network is a program MSA started in 2005 to offer resources and education to communities in an effort to build toward becoming a Main Street Community. There are currently 12 ADN communities, the newest of which is Wynne.
Evans said MSA uses a four point approach of organization, promotion, design, and economic restructuring to rebuild downtowns.
The group in Harrisburg brainstormed ideas for things they would like to see happen in the next few years and some "low-hanging fruit" projects that would be easy to get done while they work on applying toward becoming a Network city. The city has banners to promote the city that are coming in at the end of July.
Evans is originally from Conway. She said that when she came back after working in other cities for years that she was so impressed with the changes, especially to the downtown area, that she wanted to come back. "People and industries look at your downtown when they consider moving in," she said. She also noted that a trend in growing towns is that when people want to start new businesses, they start in downtown.
The next step for Harrisburg is to form a committee to work toward applying in the program at the Network level. The earliest the city could apply with Main Street would be 2014. Evans said that every community that had joined the network has seen an increase in business and jobs.