Lard Trial begins Monday
Friday, July 13, 2012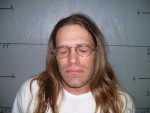 The trial for Jerry Lard, the man accused of shooting and killing Trumann police officer Jonathan Schmidt, begins on July 16 in Greene County Circuit Court in Paragould.
Lard is charged with capital murder, attempted capital murder, possession of methamphetamine, and possession of a firearm by a convicted felon. Prosecutors are seeking the death penalty.
Lard is accused of shooting and killing Officer Jonathan Schmidt during a traffic stop on April 12, 2011. According to Arkansas State Police, at 11:27 p.m. on April 12, Officer Schmidt initiated a traffic stop along Pine Street near the entrance to Cottonwood Manor. The traffic stop involved a 2002 Hyundai driven by Brian Keith Elumbaugh of Trumann. There were three other individuals in the car. The stop was made based on a license check by Officer Schmidt which indicated the vehicle was not covered by liability insurance.
A back-up officer, Corey Overstreet, 41, arrived within minutes of the stop as a matter of routine. Both squad car cameras were on. Officer Schmidt was removing the driver from the vehicle. After removing the driver and left rear seat passenger, Officer Schmidt moved to the right rear seat passenger, Jerry Lard of Trumann, 37, and opened the door. Lard was armed with a handgun and fired on Officer Schmidt. An exchange of gunfire between Lard and the two officers followed.
Officer Schmidt was taken to a NEA Baptist Hospital in Jonesboro where he was pronounced dead. Officer Overstreet, a five-year veteran of the department, was treated and returned home. His injuries were not serious, and he had no gunfire injuries.
Officer Schmidt was 30 years old and a four year veteran of the Trumann Police Department.