Hammers guest speaker at Lions Club
Friday, July 13, 2012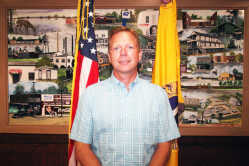 Rick Hammers, plant manager of Columbia Forest Products in Trumann, spoke to the Trumann Lions Club last Wednesday at their weekly meeting.
Columbia Forest Products has been producing plywood in Trumann for 25 years with Hammers having been here for the last 10 years.
Hammers was born and raised in Nebraska and is a graduate of the University of Nebraska. He spoke about the Pure Bond adhesive used at the plant.
Dr. Kaichang Li, a professor at the Oregon State University's College of Forestry, wondered how mussels in the ocean were clinging to rocks as the water from the waves splashed on them. He found that the mussels secreted a protein that made them stick to the rocks. Dr. Li reproduced the protein, called biomimicry, by modifying soy proteins.
Pure bond is a water resistant, formaldehyde-free and air friendly adhesive produced exclusively in North America by Columbia Forest Products.
Hammers told of the recent award the Trumann plant received for 1,000,000 man hours without a loss time for injury. He said being a small company, it took the employees four years to accomplish this
Hammers closed by saying he hopes Columbia Forest has another 25 years or more of success in Trumann.