Nichols raising support to save the Maxie
Friday, July 13, 2012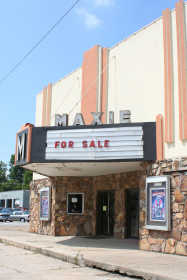 The Maxie Theatre is for sale. The theatre was built in 1946 by John Hurd and Zell and Lonnie Jaynes. It opened on Aug. 20, 1947 and has been operated by Jack and Pauline Noel since 1962. In April of 2011, it was placed on the National Register of Historic Places. Now one Trumann woman is working on raising the money to save the theatre from being gutted.
Kristy Nichols, who has lived in Trumann for 12 years with her husband, who is a Trumann native, said she spent Monday running all over the city speaking to city officials, school officials, and businesses looking for support in her project to save the Maxie.
Her plan is to start a non-profit group called Spotlight Studios with the motto of "Shining a positive light on the future of our community." The goal of the group would be to keep the Maxie open as a theatre as well as add programs that would provide productive activities for the community. Some programs she has in mind include dance and drama classes for kids, allowing students from a nearby film school to show their films as part of their classes, script writing and creative writing classes, an annual film festival, a talent night once a quarter as well as stand-up nights and musicals, and family movie nights with classic movies, art shows, and summer camps. She also would like to start a program offering college scholarships for teenagers teaching art and drama at the theatre.
"I want to build confidence and give our youth productive activities," Nichols said. "I want to have something local instead of having to go to Jonesboro for everything, something to make people proud to be from Trumann. My little girl is 4 years old, and she wants to do dance and theatre. I know that if my child wants to, there are other kids out there that want to but can't afford it. I want to have an affordable program in our community."
Nichols said in the 12 years she has lived in Trumann, she always said to her husband that if the Maxie ever went up for sale, she would want to buy it. "I spent a lot of time finding acitivities outside the community," Nichols said. "But I came to the realization that we need to make our community a better place so people will want to live here, put more into it, and move here. We have a lot of good things going on in this community, and I want to keep the ball rolling and make it a better place."
Nichols works as a Clinical Services Coordinator and Child Services Coordinator and said she was not doing this to make money and did not plan to quit her job. She wants to run the Maxie as part of a non-profit group. She needs to raise $100,000. She is an experienced grant writer -- the last grant she wrote was for $150,000. She has some grant prospects but said it would take a while for the money to come in. She hopes she can get grants coming into the area to support programs at the theatre. In the meantime, Nichols has been looking to the community for support. "Please don't let the Maxie die," she said. "Once it's gone, no one's going to build it back."
Nichols also met with organizers of Trumann Time to Shine, Inc., a non-profit group being put together to help promote programs for the betterment of the community. Democrat Tribune office manager Bridget Bean is one of the organizers of Trumann Time to Shine, Inc. She said, "Projects like this are one of the things we want to do, but we need support and ideas from the community."
Trumann Time to Shine, Inc. originated as the Trumann Time to Shine project co-sponsored by the City of Trumann and the Poinsett County Democrat Tribune, which was organized as part of Keep Arkansas Beautiful for the city-wide cleanup held in May. The Paint Your Home project was the second project the group announced for the City of Trumann. The group is taking applications from homeowners for assistance in getting their homes painted this fall.
Trumann Time to Shine is also looking for community-oriented people who care about what is going on to serve on the board of directors. Time to Shine also wants to have a junior board of directors with representatives from each of the Trumann High School classes. For more information on Trumann Time to Shine or Project Save the Maxie, call Bridget Bean at 870-483-6317.