Marked Tree receives recycling grant
Friday, July 20, 2012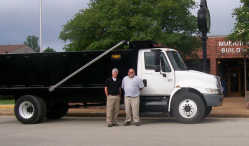 Dennis Burks, Solid Waste director for the East Arkansas Planning and Development District (EAPDD), presented Marked Tree Mayor Wayne Nichols with a $38,000 check from the Arkansas Department of Environmental Quality's Recycling Grant Program.
EAPDD applied for the grant on behalf of the City of Marked Tree. Grant funds were used to purchase a truck to pull a wood chipper for the collection and chipping of leaves and limbs around the city and for delivery to the city's composting operation. ADEQ Recycling Grant Program funds are awarded to support recycling and waste reduction activities around the state.
"This will certainly benefit the City of Marked Tree with our recycling efforts," Mayor Nichols said. "This was a great opportunity to partner with EAPDD to help the city acquire recycling equipment."
EAPDD is a non-profit, regional planning and development agency, serving a 12 county area of east Arkansas. With a land area as large as New Jersey, the District stretches from the Missouri state line to the north, through the Memphis metropolitan area, to the southern end of Crowley's Ridge at Helena.
The District's purpose is to promote and support the economic development of the region. It does this by providing technical assistance to the cities, counties, businesses, and other development organizations in the area, and by networking extensively with state and federal resource agencies.