Hatley is new president of Marked Tree Rotary
Friday, July 20, 2012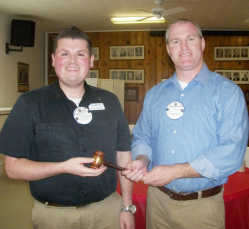 Marked Tree resident, Zach Hatley, was elected the 2012-2013 President of the Marked Tree Rotary Club. Hatley is currently employed as the nurse and social director of Three Rivers Nursing Home in Marked Tree.
In his hometown, being more active in the community and a good group of people to associate with were his reasons for joining the Rotary Club. He was asked by other members to become club president, which he considered a great honor.
Hatley hopes the club can attract new members of the next generation.
The Rotary Club of Marked Tree meets on Wednesday the first three weeks of the month at the First United Methodist Church located at 304 Frisco Street.
The club is gearing up for the Peggy Bankston Walk/Run held during the annual Marked Tree Delta Cotton Pickin' Jubilee. Hatley invites everyone to participate in the event as well as the Walk to End Alzheimer's held at Jonesboro's Arkansas State University campus on Sept. 8.
According to Hatley, Three Rivers Nursing Home is the biggest sponsor for this walk and he encourages everyone who can to show support.