Singin' dirt at NEA Speedway
Friday, July 20, 2012
Most Saturday nights from the beginning of March and running through September, you can expect the engines to be roaring and the dirt to be flying at the NEA Speedway in Harrisburg. This was my first visit to the speedway and I enjoyed the show.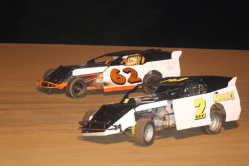 Co-owner T.J. Thompson, along with Jimmy Thompson and Warren Fender, have owned the track since 2007 but the track has been in operation since the early 90's.
Thompson said the speedway usually averages from 60-75 drivers who run in five different classifications. The classes are modified, street stock, e-mod, factory stock and mini stock. Most nights it's the usual regulars but from time to time they have special events. The schedule of events can be viewed at www.neaspeedway.org.
"We offer good clean racing and a family environment," Thompson said.
The drivers race for prize monies in the feature races along with trophies. Some classes have 20 cars running in the feature events.
If you don't have anything to do on a Saturday night, visit the speedway. The engines will be loud and the dirt will be flying.
Visit www.democrattribune.com/gallery for photos from this past Saturday night.