Fresh New Face To Poinsett County Cooperative Extension Service
Friday, July 27, 2012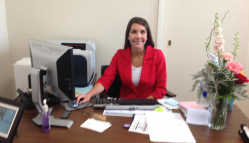 Sloane Holzhauer, originally from Dumas (Desha County), started a new adventure Monday, July 16, with the Poinsett County Cooperative Extension Service in Harrisburg. She will be the new Family & Consumer Science agent working in the areas of Food Safety and Nutrition, Marriage, Parenting and Family Life, Financial Management, and Health and Aging. Her duties will also include working with the Extension Homemakers Council and 4-H.
Sloane recently graduated from the University of Central Arkansas (UCA) in Conway with a Bachelor of Science Degree in Nutrition. While in college, she prepared for working in numerous positions through job shadowing, guest speaking, and career sites through her resources at UCA. One career stood out among the rest - Family & Consumer Science Agent with the Cooperative Extension Service with the University of Arkansas Agriculutre Research System - as a career tailored to her degree, an opportunity to change lives, and an exciting atmosphere.
"Even though I still reside in Jonesboro, I am determined to devote as much time as needed to my areas of responsibility," Sloane said. Her main goal is to supplement the efforts that have been put into place and improve on areas within the county as needed.
Sloane noted she practices what she preaches when it comes to nutrition and health.
Even though she has only been in the position for a few days, Sloane is preparing for the Arkansas Rice Expo held in Stuttgart (Arkansas County) on Friday, Aug. 3. She is also preparing for the Poinsett County Fair which runs Aug. 14-18 with the Poinsett County Extension Homemakers Council Annual Rice Buffet on Thursday, Aug. 16.
For more information about Family & Consumer Science and 4-H or Extension Homemakers Council programs offered through the Poinsett County Cooperative Extension Service, contact Sloane at 870-578-4490 or sholzhauer@uaex.edu.