District governor highlights organization's overall goal
Friday, July 27, 2012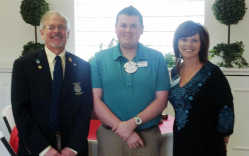 District 6150 Governor John Carter of Sherwood spoke to the Marked Tree Rotary Club Wednesday, July 18, about the excitement and enthusiasm the club has displayed for the 75 years they have been in service to their community.
Carter discussed the Rotary International theme for 2012-2013, "Peace Through Service." This theme was chosen because peace means something different to each person throughout the organzation, whether as a member or someone benefiting from Rotarian assistance, he said. "With 1.2 million members, in 200 plus countries, in 3400 clubs, Rotary will be some form of peace throughout the world," Carter said.
Carter spotlighted the number one goal of the Rotary organzation, to eradicate polio.
Rotary International reached its financial goal six months early and recieved an extra $50 million dollar gift from Bill and Linda Gates. "India has been removed from the list of affected countries," Carter said. "That leaves only three remaining, and polio has decreased by 99 percent. Rotary must push on because as long as one child is still threatened by polio, all children are still at risk."
He also discussed the defining moment when a member truly becomes a Rotarian, and not just a member. Rotary is truly about family and fellowship, he said.
Carter spoke about his personal goals for District 6150. "Prescription Drug Take Back will actually be a statewide Rotary project as all of the Rotary's district governors are in agreement that this issue is affecting everyone," Carter said. "Prescription drugs are killing our teens. The drugs are not coming from drug dealers on the streets, but straight from parents' and grandparents' medicine cabinets."
Carter also wants to increase membership and money for Rotary. "Members must learn what it takes to renew and retain the members who leave."
"Rotary is a five star organization meaning that every dollar that comes in, goes into the projects," Carter said. "We must learn to share our Rotary story with others, and increase peace through service."