Merrell tells about nature center
Friday, July 27, 2012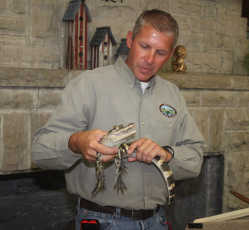 Shawn Merrell, director of the Forrest L. Wood Crowley's Ridge Nature Center, was the guest last Wednesday at the Trumann Lions Club.
Merrell has been director of the nature center for the last six years having worked as the wildlife program coordinator before that. He had worked for the Arkansas Game and Fish Commission (AGFC) since 1997 and managed the Bayou DeView Wildlife Management Area for six years.
Merrell lived in Trumann from grades four through seven when his dad was the pastor at Parkview Baptist church. He said he's always loved the outdoors and trapped animals during his high school days.
The nature center was built in 2004 and is a 17,000 square foot three level facility. There were over 64,000 visitors last year, with 22,000 being school kids. The center offers a different variety of things to do from archery, crafts and fishing. One can also just come and enjoy the animals they have on exhibit.
There is a two and a half mile ADA approved trail system at the nature center. The AGFC's new offices are being built there and are scheduled to open in the middle of August.
There are renovations in the works with one being an alligator habitat.
Merrell brought an alligator with him for the group to see. He gave a brief history of the alligator in Arkansas and said the numbers are back up in south Arkansas where they now offer a hunting season where they give out 20-26 tags per year.
Merrell told many stories that were both entertaining and informative during his presentation. He urged everyone, "Take kids out to hunt and fish. It's a great bonding time."
The nature center is located at 600 E. Lawson Road in Jonesboro. Persons may contact them at 870-933-6787 or visit the website at www.crowleysridge.org.