Two grants for Trumann announced at luncheon
Friday, July 27, 2012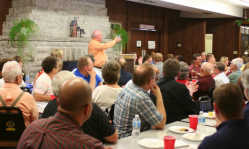 Grants for two projects Trumann has been working on for some time were announced at a luncheon at the Community House this week.
Barbara Lewallen with the Trumann Chamber of Commerce announced the City of Trumann had been awarded a grant of $789,430 for the purpose of building a detention pond on a 45 acre tract of land near Mulberry Street to alleviate flooding. Lewallen said a study was done and a grant was applied for to help with this problem in 1976, but Trumann did not receive a grant then. After heavy flooding in 2008-09, the city applied for disaster aid money. Again, the city was not awarded a grant. But after all the grants were awarded, there was still money left in the disaster fund, and Trumann was encouraged to reapply. This time, the city's proposal was accepted.
"We're thrilled," Lewallen said. "We're excited and grateful for all the people who helped in putting the proposal together. It's just ironic that Arkansas, and much of the country, is under a severe drought right now."
The other grant announced is a Community Development Block Grant from the Arkansas Economic Development Commission totalling $82,500. This money will go toward the construction of an adult education center which will offer both adult education and workforce training. Together with donations from Jerry Sims, Patti Sims-Swinford and money raised from the Friday Night at the Show benefit, a total of $340,500 has been raised for the adult education center, bringing the city over halfway toward its goal.
"We're hoping by November we'll have enough money to start," Chamber of Commerce Executive Director Jackie Ross said.