Jury soon to decide fate of Lard
Friday, July 27, 2012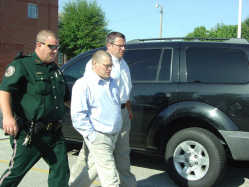 The fate of Jerry Lard, 38, of Trumann, charged with capital murder in the April 12, 2011, shooting death of 30-year-old Trumann police officer Jonathan Schmidt, soon will be in the hands of jurors who listened this week to testimony which began Friday, July 20, after a lengthy jury-selection process which began four days earlier.
The state is seeking the death penalty for Lard, also charged with possession of methamphetamine and with attempted capital murder for shooting at Trumann officer Sgt. Corey Overstreet, who assisted Schmidt in the late night traffic stop but was not injured.
The trial is being held at the Greene County Courthouse in Paragould on a change of venue from Poinsett County at the request of the defense team, which is seeking to prove Lard is mentally challenged and was not able to premeditate the shooting.
The defense, including public defenders Jacqueline Wright, Katherine Streett and Teri Chambers, all of Little Rock, rested its case Tuesday afternoon after calling several witnesses who testified to Lard's mental capacity and long-term drug use. Lard's friends testified he began using methamphetamine at a young age, and experts gave information on the effects of meth use on the brain, saying it impairs impulse control and causes paranoia, hallucinations, rages, anxiety and insomnia.
Neuropsychologist Dr. Barry Crown said Lard is not mentally retarded and "managed to figure things out through the years to get by," but estimated Lard has the intellect of a fifth grader, or someone just over 10 years old. Crown said Lard called marijuana his "nerve medication."
The prosecution team, which includes district prosecutor Scott Ellington, Greene County deputy prosecutors Kimberly Dale and Andy Fulkerson and Poinsett County deputy prosecutors Jimmy Gazaway and David Boling, dismissed the brain-damage theory and sought to prove through its rebuttal testimony Wednesday that Lard was fully aware of his actions.
As the trial got underway Friday afternoon, jurors viewed videos from cameras on the dashboards of Schmidt and Overstreet's vehicles. The videos showed Schmidt pulling over a silver Hyundai Sonata, driven by Brian Keith Elumbaugh, at about 11:20 p.m. on Pine Street in Trumann. Overstreet was called to the scene for backup.
Elumbaugh testified he was not surprised to be stopped since he had failed to appear in court on a misdemeanor charge related to the city's dog-leash law. Through a routine radio check, a dispatcher sent word that Lard, a passenger in the back seat of the vehicle, had an outstanding warrant for rape, and Schmidt moved to the back door of the vehicle to speak with him.
The film showed Lard being shot in the chin by Lard with a .25 caliber handgun. Schmidt moved to take cover but was pursued by Lard, who exited the vehicle, firing his weapon at both Schmidt and at Overstreet, who was standing at the back of the vehicle with other occupants who were being questioned.
Lard had his hangun in one hand and a soft drink cup in the other hand as he continued in a rage to pursue the officers and yell obsenities as they took shelter behind their police cars.
Lard shot Schmidt two more times with his own gun before picking up Schmidt's .40 caliber service weapon, dropped by Schmidt after his initial injury, and firing a final shot into Schmidt's head. Schmidt could be heard on the video pleading for his life just before the last shot was fired.
Schmidt's wife Andrea, his father Donald Schmidt and several family members wept openly as they watched the videos for the first time in the courtroom Friday. Donald Schmidt was visibly shaken and temporarily left the courtroom after hearing paramedic Kara White give her testimony of the final minutes of his son's life during transit to NEA Baptist Hospital in Jonesboro, where he was later pronounced dead.
As the trial went into full swing Monday, July 23, prosecutors called state witnesses and entered items into evidence. Detailed listings were given of the 59 items, which included clothing worn by Schmidt and Lard, Schmidt's vest, in which one of the bullets was found, Lard's glasses which were spattered with blood, drugs found in Lard's pockets, Lard's cellphone, photos from the scene and hospital, videos from the two police car cameras, guns, bullets and more.
In his testimony, Overstreet told the court, "When I looked in Lard's eyes as he began to shoot at me, I could tell he was hell bent on killing us that night."
After Lard shot Schmidt the fourth time, Overstreet managed to bring Lard down with his weapon. As Lard lay on the ground wounded, Overstreet said, he went back to the side of his fellow officer.
"I got him bud," Overstreet said he told his friend.
The Trumann Ambulance Service soon arrived on the scene and began efforts to save Schmidt's life. Paramedic White told of efforts to stabilize Schmidt at the scene.
"I knew officer Schmidt well, but I didn't even recognize him when I arrived," White said. "He couldn't speak, but his eyes acknowledged that I was there. He was critical and in an unstable condition and had great blood loss. In the ambulance enroute to Jonesboro, I kept reminding him to hang on and that he had those precious children and baby to live for. He tried so hard."
By the time the ambulance reached the hospital, he didn't have a pulse, White said.
Other passengers in Elumbaugh's car included his fiancee, April Swanner, on the front passenger seat, and Nikki Pierce, in the back seat with Lard.
"Jerry seemed agitated and fidgety that night -- something different was going on with him," Elumbaugh testified. "When the officer pulled us over, I heard Jerry say, "Looks like tonight is going to be the night."
Lard was known to carry the .25 caliber gun that friends said he called his "P-shooter." Elumbaugh testified he understood the P to stand for police.
"I saw Jerry fire and chase the policemen," Elumbaugh said. "He bent down and picked something up. I saw Jonathan sitting on the ground. He kept saying the same thing, 'Don't shoot me, I have kids.' Then I saw Jerry shoot him."
Swanner cried during her testimony and spoke so softly she was barely audible. She testified that when Schmidt pulled them over, Lard said "Here we go," as the officer walked around the car.
"Then he just shot him," she told. "I heard Overstreet fire at Jerry, and then Jerry went down."
After the shooting, Lard was treated at St. Bernards Medical Center in Jonesboro and then transported to the Craighead County Jail, where he has remained until the trial began July 16 in Paragould.
Autopsy photos of Schmidt were shown to the jurors on Tuesday, revealing that, in addition to the four gunshot wounds, he had scrapes on his knuckles, chest and knees.
"I want the photos shown to the jury because they will show the intent of the defendant when he made that final shot," prosecutor Dale said.
Presiding Circuit Judge Brent Davis initially estimated the case would last two weeks, with the possibility of calling the jury back on Saturday if necessary.
Update: On Thursday, Lard was found guilty of capital murder, attempted capital murder, and possession of methamphetamine. The sentencing phase of the trial began Friday.