A visit from Beautiful Bobby Eaton
Thursday, July 26, 2012
Beautiful Bobby Eaton stopped by the newspaper office last Thursday as he and the promoters of Magic of Wrestling were out spreading the word about Trouble In Trumann which will take place July 28th at 7 pm at the Trumann Sports Complex.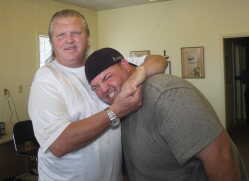 Eaton broke into the business in 1976 and has enjoyed a wonderful career wrestling all over the world. Eaton is now semi-retired and makes special appearances at matches.
While visiting with the staff at the newspaper office, Eaton called the Ryan Rogers from the Clay County paper and chatted with him for a few minutes. Rogers said after the call, "That phone call made my day! Bobby Eaton is one of my all-time favorite idols! I felt like a kid again!"
Seven big matches are scheduled for the 7 pm bell time. Genetic Perfection will take on the Texas Tornadoes in tag team action, Derrick King will battle Stan Lee, Kevin White w/Manager Garry White will take on "Grandmaster Sexay" Brian Christopher in the semi main event before Austin Lane wrestles his last match again Killer Nikels. Card my be subject to change.
Advance tickets may be purchased at the Poinsett County Democrat Tribune and Trumann City Hall.