TJHS cheerleaders stand out at camp
Thursday, August 2, 2012
The Trumann Junior High School cheerleaders had a great week at cheerleading camp last week in Jonesboro.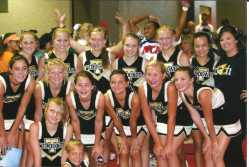 The young ladies won best Game Time performance, Spot Safety award, received the spirit stick every day and had nine nominations for the All-American team with four receiving that award. Those making All-American were Ashton Parker, Mikayla Hammers, Savannah Morgan and Misty Moye. The group also received a bid to nationals in Dallas.
The group is coached by DeAnn Penter.