Trouble in Trumann card entertains audience
Thursday, August 2, 2012
Trouble in Trumann was a big hit this past Saturday night at the Trumann Sports Complex. Magic of Wrestling (MOW) presented seven big matches for those in attendance.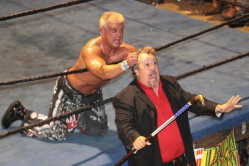 Members of the Trumann Boy Scouts presented the colors before the first match.
Chad Williams and Chris Adams faced each other in the opening match with Williams winning via a pin fall. Dan Matthews and Dell Tucker squared off in the second match of the night with Matthews coming out the victor.
Derrick King and Stan Lee was the third match of the night. Lee pinned King to have his hand raised as the winner. Precious and the Boogie Woogie Boy Gary Valiant faced each other in the fourth match of the night. Valiant had the crowd rocking with antics and ended up pinning Precious for the win.
Before the final two matches, MOW paid tribute to Austin Lane as he was wrestling his final match. Nightmare Ken Wayne was on hand to honor Lane.
Grand Master Sexay Brian Christopher faced Kevin White with manger Garry White in the next to last match. The match was back and forth before Christopher finally got the win by pinning White.
In the main event, Austin Lane squared of against Killer Nikkels. This was the first time these two wrestlers had faced each other. The match was a classic affair with Nikkels dishing out tons of punishment with Lane refusing to be pinned. Austin was hit a few times with a chair but Nikkels could not keep him down for a three count. In the end, Nikkels got Lane in submission hold and forced to Lane to tap out to end the match. Lane laid in the ring for a few minutes before all the wrestlers came out and paid tribute to Lane.