Rotary considers fundraisers
Friday, August 3, 2012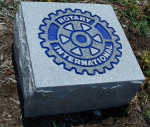 President Zach Hatley came prepared and organized to discuss issues and events that the Marked Tree Rotary planning committee had narrowed down. As with any organization, Hatley said there is a need to assemble some routine fundraisers that will generate revenue. A few of the ideas presented included an after hours mixer/dinner, bake sale, and spare change drive.
Also discussed was the Peggy Bankston Walk to be held Saturday, Sept. 29, on the morning of the Marked Tree Delta Cotton Pickin' Jubilee. Marked Tree Rotary annually honors the memory of a past member, Peggy Bankston, who lost her fight with breast cancer with a 5k walk in Marked Tree. Further discussion included where the walk would start from and tee shirt designs.
Hatley also mentioned the Marked Tree Chamber of Commerce and the Marked Tree Dollar General will co-sponsor a "Fill the Bus" event during the "No Sales Tax" holiday to benefit Marked Tree schools only. Hatley expressed he had spoken with the Chamber President that the Rotary Club could assist in sponsoring this event to increase exposure. Rotary members, Mary Ann Arnold and Charles Glover, commented on the benefits of assisting the local businesses through programs like this.
Membership recuirtment was also discussed. "How do we branch out?" Hatley asked the members. "Having a business join as a member would open up for more people to attend the meetings."
A wheel barrow raffle held during the Jubilee as a fundraiser for Rotary was also discussed.