Layne tells Lions about Century Link
Friday, August 3, 2012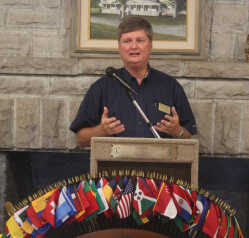 Skip Layne has been with what is now Century Link since 1972. Over the years he has seen many changes come along.
Layne was the guest speaker at the Trumann Lions Club weekly meeting last Wednesday and discussed those changes with the members present.
Growing up in Monette and playing sports against Trumann, Layne said he has fond memories of the town. His office was located in Trumann in the '90s.
United Telephone Company was the name at the time Layne went to work on the line crew in 1972.
He said over the years he's done about every job there is with the company. He said the jobs he started out doing were setting poles and stringing wire from the poles. He said now most of the cables are buried underground.
Like the jobs, the company name has changed a few times. In the early '90s the company became Contel, before being changed to GTE the next year. In 2000 the company became CenturyTel. CenturyTel purchased Embark and Qwest in 2008 and became Century Link.
Century Link is offered in 39 states along with several countries. Layne is now the operations manager for north and east Arkansas and oversees the operations out of Olive Branch, Miss. He has 23 counties under his supervision and sends out 140 trucks daily.
Century Link employs 380 in two districts with a payroll of $26 million annually. There are 170,000 access lines serving 128 communities.
Layne said 94 percent of the customers in Trumann and the surrounding areas have internet but that only 35-40 percent have it statewide. Most say they can't afford it or just don't want it.
Layne closed telling about the rise of copper theft. He said he's seen more copper stolen this last year than in the all the years combined he's worked. He said the worry is when thieves cut the lines, a lot of times they cut the fiber optics and it causes the system to shut down in that area. Sharp and Fulton counties are the most hit areas with Poinsett and Craighead not as bad due to the lines being buried.