Serving non profit organizations With magic
Friday, August 3, 2012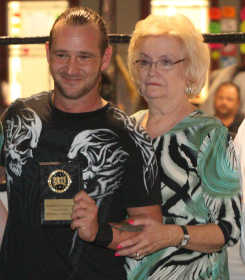 Imagine it is Saturday morning, the family is gathered around the television with great anticipation as Channel 5 of Memphis is preparing to present the wrestling show that brings the larger than life wrestlers into their homes. "Businesses in Newport would close their doors during this time to go home and enjoy these shows with their families," explained Betty Butler, owner and promoter of The Magic of Wrestling in Newport.
After a hiatus of 30 years of not watching or being around wrestling, Butler got back into watching and going to shows. The more shows she watched, the more she wanted to be involved with promoting wrestling and watching it become family entertainment again.
"The transition from being a fan to being a promoter was easy," Butler said. "I had been building a plan to make a difference. When I would watch the wrestling shows, I would critique the show and figure out how to benefit others with the same entertainment I experienced with my family."
Having no specific talent like singing or painting, she decided to do what she could to offer good quality shows at a reasonable price to allow families to experience the thrill presented by professional wrestlers. For two years, she worked on developing this organization with the help of friends to assist non profit organizations raise funds for their projects.
Since 2011, Ms. Butler has helped many organizations reach goals with their fundraisers through The Wrestling of Magic and will continue to help others as long as she can. The show held on Saturday, July 28, was their fourth show in Trumann and the concession proceeds went to the Trumann Boy Scouts.
"This show was one of our most emotional intense since we have been producing," Butler said. That was the type of atmosphere she would love to have at every show. "We have the best locker room out of any of the wrestling promotion groups. We only use professionals who remain professional in and out of the ring. We are a family oriented entertainment."
One might think Ms. Butler would have been hesitant to work with wrestlers in a male dominated sport, but she relied on the work ethic instilled by her parents. "My parents taught me that if I worked hard and truly cared about the work I was putting forth, I could do anything," she said.
"I already work in a position helping people with their Social Security benefits where all my coworkers are male. So why would I let that stop me from pursuing my heart's desire of helping others. I see so many non-profit organizations trying to raise money to help people and seeing people suffer from the lack of funds for assistance, I had to do something."
She found her solution by creating The Magic of Wrestling.