Payne remains active in community
Friday, August 3, 2012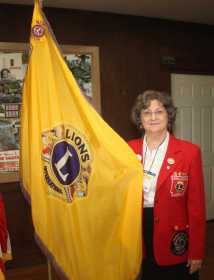 Betty Payne has always been a very active member of the community and shows no signs of slowing down. "I turn 80 years old next year," she said. "I feel like I'm going 80 miles per hour with my pedal to the metal."
In addition to teaching for 41 years, the last 17 of which she was an elementary principal, Payne is the president of the Trumann Library Board, is on the Community House Board, Retired Teachers Board, and the 4-H Board. She is Superintendent of Sunday School and an Awanis Leader at her church. She is past president of the Piggott Chamber of Commerce, was Citizen of the Year for two years in Piggott, and was selected as an NFL Teacher of the Year. Payne became a Certified Nursing Assistant in Marked Tree so she could take care of her mother. After becoming a CNA, she also helped out at the nursing home.
A member of the Trumann Lions Club, Payne was recently elected District Governor and traveled to Busan, South Korea for the 95th Lions Club International Convention where she underwent training and was inducted as a district governor. Payne was one of around 900 district governors representing over 200 countries at the convention. Payne said about 500,000 of Lions International's 1.35 billion were in attendance, including thousands of Chinese members. Lions International is the only international volunteer service club organization in China.
Payne arrived in Busan at night and said her first impression was that it was very dark. Most of the lights in buildings were off, and the few street lights were very dim. When she got to her hotel room, she found her key card was required to turn on the lights and air-conditioning. This meant that everything automatically turned off when she left. "They're very economical," she said.
The convention was held during monsoon season, and hotels offered umbrellas to guests and had bins to dry them for reuse. Payne also noticed large bins for recycling all over the city. "I've never seen anything so clean. Everywhere we went we saw people sweeping the streets. There was no litter," she said.
"Even though it's a lovely country with many qualities I admire," Payne said, "the United States is still the greatest country there ever was."
Payne said all the classes were taught in the native language of the participants and half of her class exchanged with an Indian class to interact with Indian district governors.
"The first thing they asked us was how much becoming governor cost us," Payne said. Becoming district governor does not cost anything in the U.S. "In India, it's so prestigious, they vie for it and buy it while in the U.S. we're losing membership because members are getting older and the younger generations use Facebook instead of joining social and service clubs. At first, it seemed to me that the Indian district governors did it for prestige while we do it from the heart. But later I learned that most governors over there are wealthy men." One district governor told her that he built a vocational school for the mentally challenged as his Lions Club project. "Whatever works for them," Payne said.
This year's theme for Lions International is "In a World of Service" with the goal of promoting literacy. Lions clubs will be adopting schools, reading in libraries, and giving books to schools as part of this goal. Payne said the Trumann Lions Club buys glasses to donate to children and senior citizens year-round and works to send children with vision problems to Midsouth Hospital.
As district governor, Payne will visit the 34 clubs in her district to talk about developing reading projects, and to promote the Lions Measles Initiative -- a partnership with Bill and Melinda Gates to donate money for vaccines to eradicate measles. Payne will also help clubs encourage new membership, promote Leo Clubs for high schoolers, and promote the Lions Quest Program, which helps students deal with self esteem issues, bullying, and drugs.
Payne said that part of the reason she has remained active in the community all her life was to pay the community back for all the help she received. After her husband died in the Vietnam War, Payne stayed in Trumann and said the entire city helped her raise her boys.
"You know how they say it takes a village to raise a child?" she said. "It's true. Why should I not give back? It's a pay it forward type thing. Karen Taylor Good sings a song called 'All Used Up.' That's the way I want to go out. I want to keep going till I'm all used up."