Lard receives death sentence
Friday, August 3, 2012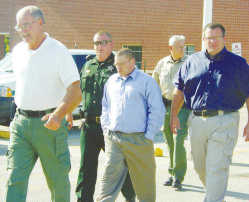 Jurors sentenced Jerry Lard to death Saturday morning, July 28, in the April 2011 shooting death of Trumann police officer Jonathan Schmidt.
The jury of seven women and five men found Lard guilty of capital murder on Thursday, July 26, and voted unanimously Saturday for him to be put to death by lethal injection.
Circuit Judge Brent Davis set Lard's execution to be on April 12, 2013 -- exactly two years to the day after he killed officer Schmidt.
The final verdict came 11 days after the jurors had first been summoned to the Greene County courtroom in a change of venue from Poinsett County. Jury selection for the capital murder trial began Monday, July 16, and four and a half days later, on the following Friday, testimony began.
The guilt or innocence trial phase took another four and a half days and sentencing another two days. The 12 jurors voted unanimously for a guilty verdict on all three charges against Lard, including capital murder in the death of Schmidt, attempted capital murder for shooting at Trumann officer Sgt. Corey Overstreet, who was not injured, and with possession of methamphetamines.
Prosecutors Scott Ellington, Kimberly Dale, Andy Fulkerson, Jimmy Gazaway and David Boling said Lard made a conscious choice to shoot officer Schmidt with intent to kill when, during a routine traffic stop, Schmidt approached the vehicle in which Lard was a passenger.
Prosecutors presented a body of evidence during the trial consisting of police vehicle dash camera videos, personal body microphone recordings, crime scene photographs and testimonies of physical and mental health professionals to prove that Lard did not have a mental defect or impairment and acted with malice and forethought.
The videos showed Schmidt pulling over a silver Hyundai Sonata, driven by Brian Keith Elumbaugh, at about 11:20 p.m. on Pine Street in Trumann. Overstreet was called to the scene for backup.
Elumbaugh testified he was not surprised to be stopped since he had failed to appear in court on a misdemeanor charge related to the city's dog-leash law. Through a routine radio check, a dispatcher sent word that Lard, a passenger in the back seat of the vehicle, had an outstanding warrant for rape, and Schmidt moved to the back door of the vehicle to speak with him.
The film showed Lard being shot in the chin by Lard with a .25 caliber handgun. Schmidt moved to take cover but was pursued by Lard, who exited the vehicle, firing his weapon at both Schmidt and at Overstreet, who was standing at the back of the vehicle with other occupants who were being questioned.
Lard had his handgun in one hand and a soft drink cup in the other hand as he continued in a rage to pursue the officers and yell obscenities as they took shelter behind their police cars.
Lard shot Schmidt two more times with his own gun before picking up Schmidt's .40 caliber service weapon, dropped by Schmidt after his initial injury, and firing a final shot into Schmidt's head. Schmidt could be heard on the video pleading for his life just before the last shot was fired.
In his testimony, Overstreet told the court, "When I looked in Lard's eyes as he began to shoot at me, I could tell he was hell bent on killing us that night."
After Lard shot Schmidt the fourth time, Overstreet managed to bring Lard down with his weapon. As Lard lay on the ground wounded, Overstreet said, he went back to the side of his fellow officer.
"I got him bud," Overstreet said he told his friend.
Schmidt died in an ambulance enroute to NEA Baptist Hospital in Jonesboro, where he was later pronounced dead.
Defense attorneys Teri Chambers, Katherine Streett and Jacqueline Wright contended Lard had suffered brain damage and was mentally ill at the time of the shooting. They introduced witnesses Wednesday, July 25, who testified of Lard's abusive childhood, use of methamphetamines at a young age and the effects of drug use on the brain. The defense contended elevated amounts of dopamine can possibly impair impulse control and cause paranoia, hallucinations, rages, anxiety and insomnia.
Schmidt's family and friends wept openly throughout the trial as many of them viewed actual crime scene footage for the first time and heard final conversations between Schmidt and Lard.
The slayed officer's father, Donald Schmidt Sr., his widow, Andrea Schmidt, and his brother, Donald Schmidt Jr., gave victim impact statements.
Donald Schmidt Sr. read heart-wrenching notations from a journal he kept after the night of his son's death.
"When you lose a child, you lose a piece of yourself," he said. "We were all emotionally destroyed. My wife (Kathy) had to go to the hospital. Jonathan's children Chase, Haley and baby Keaton can't understand what happened, and it was hard if not impossible to explain it to them."
"Death has a sting," said Don Schmidt Jr. "My family has felt it. We are still hurting. This has been the greatest hurt ever."
"My son (Keaton) is 18 months old and he will never know his father," Andrea Schmidt said. "Chase (13) and Haley (11) had to go back to live with their biological mother after living with us for 10 years. Their lives have been turned upside down. Keaton looks everywhere for his father to come home and longs to play with his brother and sister. I am their mother and I can't protect them from the pain. I can't even remember eight months of my life. I wasn't able to go back to work for four months, and we lost our insurance. I can't sleep at night. I seek peace and understanding of all this. My life is darker without his light in it."
Andrea Schmidt showed family photos to the jury as she tearfully relived the happy time they all spent together.
During closing statements, defense attorney Streett told the jury, "No one deserves to die like officer Schmidt died. The Schmidt family is suffering indescribable pain and their lives will never be the same. We can't bring him back. Your job is to punish Lard. If you can do so without adding another killing, then that is what you should do. Surely you are better than the man you saw on that video and show mercy. Jerry was born with such promise, but he was terrorized as a child and became a product of his life experiences. Some people can overcome and some can't. Jerry's family is no more guilty than Schmidt's family. Jerry is not going anywhere. There is no parole for him. If you have any compassion for his family, I ask you to vote for life in prison for Jerry."
"We are not putting a six-year-old child to death. Jerry Lard is a grown man who knew what he was doing," Dale said. "The only regret that Jerry has expressed was that he didn't kill the other officer (Overstreet). The seed of hatred has been planted in him. I have dealt with it during this trial, and you have dealt with it. Now it is time to see that justice is done."
"Don't let someone transfer the guilt onto you," Ellington added in speaking to the jurors. "Lard brought this onto himself. He had other choices he could have made. It is all about him. This is all his doing."
Fulkerson also addressed the jury, saying, "Lard's final words to Schmidt before he fired that final shot were 'Show me what the f*** you got now b****. Now it is your time to show Jerry Lard what you got."
Following the sentencing hearing Saturday, Ellington, who serves as Second Judicial District prosecuting attorney, issued this statement:
"When the spouse of a law enforcement officer sends him or her off to begin their shift, they never know if they will see each other alive again. The most important job of a law enforcement officer is to return home safely to his or her family at the end of his or her shift.
"I have attended three funerals for fallen officers since I was elected in 2010. I hope and pray that I never have to attend another. The citizens of the Second Judicial District can trust that if another law enforcement officer is killed in the line of duty while I am your prosecuting attorney, my office will pursue the death penalty against the responsible person or persons. My administration has and will continue to have an absolute zero tolerance policy for the unspeakable crime of murdering a police officer in the line of duty.
"My decision to seek the death penalty in this case is one that did not come without a great amount of prayer and guidance. Capital punishment and the use of such is not something that I take lightly. In this particular case, I saw no other option. Not only did the defendant kill Trumann police officer Jonathan Schmidt, he came within inches of killing Sgt. Corey Overstreet in the same episode.
"In my 20 years as a trial attorney, I have never heard a jury speak any louder or clearer than this Greene County jury did today. This jury spoke volumes with the punishment that they delivered today -- a sentence of death. The jury echoed the commitment of the community to protect those who protect us. I am very proud of their courage and fortitude. I know it wasn't an easy decision, but it is one that had to be made. They jury is the conscience of the community, and I appreciate their sacrifice in serving in this two-week trial and for what I know had to be a difficult decision. We knew it would take all 12 jurors to impose the death sentence and they have done just that.
"The State of Arkansas -- and I speak for the state as the elected prosecutor for the Second Judicial District -- believes officer Jonathan Schmidt and his family now have justice for his murder and are a step closer to closure. They have experienced a tremendous amount of pain and suffering. That pain and void that they have felt will never fully go away, but I pray that with the jury's decision they will find peace. The family of officer Schmidt are some of the finest and strongest people that I have ever had the privilege of meeting, and they will continue to be in my prayers.
"I want to thank my team, Greene County Deputy Prosecutors Kimberly Dale and Dr. Andy Fulkerson; Poinsett County Deputy Prosecutors Jimmy Gazaway and David Boling, and our support staff, Zach Morrison, Liz Wagner, Robin Norman and investigator Allan Hicks. All have given 110 percent, and I could not be prouder of my deputy prosecutors and staff for their tireless work and effort in helping me achieve justice for officer Schmidt and his family.
"I also want to thank Poinsett County Judge Charles Nix, Poinsett County Sheriff Larry Mills, Craighead County Sheriff Jack McCann, Greene County Sheriff Dan Langston and all of their departments for the assistance they have provided throughout this long ordeal.
"Poinsett County has gone above and beyond the call of duty in helping to bring this murderer to trial and hold him responsible for his actions.
"The Arkansas State Police and their expertise were so valuable in taking this case, investigating it, and pulling it together for the prosecution team. They turned over every rock and followed every possible lead to ensure that justice would be done for officer Schmidt. Lead investigator, Special Agent Mike Grimes, Sgt. John Carter, Special Agents Ramey Lovan, Allen Earnhart and Tony Roe gave their all and I appreciate their service.
"Most importantly, let us not forget about the true heroes in this, officer Jonathan Schmidt and Sgt. Corey Overstreet, who put their lives on the line every day to serve and protect the people of Trumann.
"Officer Jonathan Schmidt made the ultimate sacrifice doing what he loved most, protecting and serving his community. His legacy and life that he gave unselfishly will never be forgotten.
"In remembering Officer Schmidt and the sacrifice that he made, my mind was drawn to John 15:13: 'Greater love hath no man than this, that a man lay down his life for his friends.'
"Officer Jonathan Schmidt, fallen but not forgotten. Thank you."