Rosanne Cash looking forward to Johnny Cash Music Festival
Friday, August 10, 2012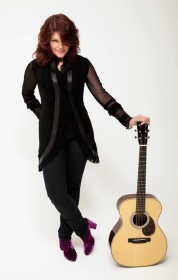 Singer-songwriter and author Rosanne Cash will host the second annual Johnny Cash Music Festival Friday, Oct. 5, at Arkansas State University in Jonesboro.
Proceeds from the concert will help fund the ongoing restoration of the Johnny Cash Boyhood Home Project in Dyess, Ark.
"Coming back to Northeast Arkansas each year is something I always look forward to," Cash said. "My father held this area near and dear to his heart. Dyess was where his roots were and where his love of music began. He drew strength and inspiration from this place, his family and friends."
Rosanne Cash was born in Memphis, Tenn., the first child of country music icon Johnny Cash and his first wife Vivian Liberto. After her parent's divorced, she was raised by her mother in Los Angeles, Calif. Her father went on to marry well-known singer and songwriter June Carter.
"My father said that every dirt clod and rock at Dyess had a special memory for him," Cash said. "It would mean so much to him to see the restoration being done at the home he grew up in, where he got his start. He often spoke of how the family sang at home, at church, and while working in the cotton fields. They all listened to the music on the radio and sang along with it. Dad kept a stalk of cotton in his office through the years as a reminder of the farm."
Director of Heritage Sites Dr. Ruth Hawkins heads the restoration project at ASU and refers to the work done at the Cash home as "preservation of something that is authentic."
"Dad took me and my sisters, Kathy, Cindy and Tara, to Dyess when we were teenagers," Cash said. "He wanted us to know about where he grew up. Of course, we always had to drive out that dirt road to his home place. He would get out and walk around and point out where things use to be when he was a kid.
"Just as Dad's life had influenced him as a singer and song writer, I find that to be true in my life as well. After graduating from high school, I joined my father and June's Road Show and got to see the entertainment business from the ground up. I did laundry, worked as a back-up singer, and on occasion was a soloist. I wasn't sure if I wanted to make music my career at first and had several other jobs. Slowly but surely, I found myself drawn into the entertainment business as a chosen career."
Rosanne Cash married Rodney Crowell in 1979, the same year she released her debut album "Right or Wrong." Her commercial breakthrough, "Seven Year Ache," was released in 1981. After having several country and Pop Chart song releases, she took a few years off to raise her family, which consisted of daughters, Caitlin, Chelsea, Hannah, and Carrie.
She went on to release four successive number one hit singles during her marriage to Crowell and after their divorce. She set an all-time record for women in country music. The revival of her father's country hit, "Tennessee Flat-Top Box" was a huge success, winning her Billboard's Top Single Artist Award.
"While in Arkansas I always get great responses when I sing the 'Tennessee Flat-Top Box' and 'Picking Time'," Cash said. "I have to admit I still get all choked up in doing them. I plan to do more area related songs this year also, like 'Old Cotton Fields Back Home.' I am writing an album now about the South, because my time spent here has reconnected me to Dyess and my love of the South. This experience has stirred my soul. I hope to release the album by the end of this year.
"I have never tired of the Dyess stories told to me by my father, and his brother Tommy and sister Joanne. They have managed to remember details about school, going up town and basketball teams they played on. Their keen remembrances of the home place has helped immensely with the interior restoration part of the project, as they pointed out where furniture, rugs, pictures, and the family piano once stood."
Rosanne Cash released last year her latest memoir titled "Composed." It is a testament to the power of art, tradition and love for transforming a life.
Between 2003 and 2005 Cash lost her father, mother, and stepmother. She and her husband John Leventhal live in New York City now with their 13 year old son Jake.
Headlining the 2012 Johnny Cash Music Festival with Cash will be Willie Nelson, Dierks Bentley, and the Civil Wars.
The contributions made by Rosanne Cash and her half-brother John Carter Cash will ensure the continued success of the Cash musical legacy and, hopefully as well, the annual Johnny Cash Musical Festival at ASU.