Robertson guest of Lions Club
Friday, August 10, 2012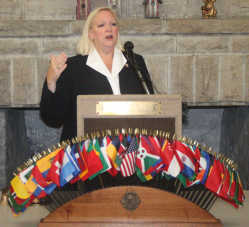 Jeannette Robertson of Jonesboro was the guest speaker at the Trumann Lions Club meeting last week at the Old Community House.
Robertson is a practicing attorney with 28 years experience working in both state and federal courts. She has had a full time practice for the last seven years while also being a part-time District Court Judge covering small claims and civil cases.
Robertson is running for a seat on the Court of Appeals and she talked about what that court does. There are the executive, legislative and judicial branches of courts. The judicial branch acts as an overseer for the two above and handles appeals when one arises.
The Court of Appeals was created in 1978 when the Arkansas Supreme Court needed help with the back log of appeal cases. Then Governor Bill Clinton helped get laws passed in legislature to form the appeals court. Now 12 justices hears cases from circuit, probate and district courts.
The justices make sure the right decisions were made and everyone is doing their job. If an error is found, the case can be sent back to lower court to be retried. The justices also read appeal briefs to make sure all laws and procedures are being followed.
"We have a responsibility, not just as a citizen but as an individual, to serve our community, state and country. I believe God gives us a responsibility to help our fellow man," Robertson said.
If elected for the District 1 seat, Robertson said, "I will fight for your rights."
To learn more about Robertson, visit www.jeannetterobertson.com.