Finding a Little Bit of Heaven in Marked Tree
Friday, August 10, 2012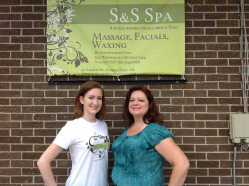 Just as the proverb goes, "Don't judge a book by its cover," the same holds true for the quaint brown brick building at 511 Liberty in Marked Tree. This is where S&S Spa, a mother/daughter team, have opened their new business.
S&S Spa's motto, "A place where it's all about YOU," fits this new business perfectly. With their hours of operations being by appointment only, this allows their clients to feel safe and relaxed. Each session is tailored to the client and is determined by their needs which are documented thoroughly on their assessment forms.
S&S Spa is owned and operated by Sue and Stacha Imhoff of Marked Tree. The spa will offer four different types of massages, facials, Microdermabrasions, waxing, and make-up for special occasions. There are four on-going packages including a "First Time Visit Special" that will be continually available. They have a great "Grand Opening Special" that includes a 60 minute facial, 60 minute Swedish massage, and a hot towel wrap.
Sue Imhoff graduated in 1999 from the Academy of Skin and Nails in Montana. She decided to study Esthetics after she had a spa day herself and also worked with Lancome. She has always been interested in pampering.
Stacha Imhoff recently graduated from Arkansas College of Massage Therapy. Her decision for studying massage was for the many benefits massage offers. "Massage can offer an alternative benefit to many health problems," Stacha said, "Massage is not just for relaxing, but for therapy and body maintenance."
Sue and Stacha have been working in Jonesboro at Body Indulgence for three years combined. While they enjoyed working there, something was missing. "I simply chose to be closer to home as well as promoting the one on one experience that owning our own business will allow," Sue said.
"We chose Marked Tree because of the commute to Jonesboro, not only for ourselves but for our clients as well," Stacha said. "It also allows for us to offer a combination of services as the only massage spa in Marked Tree."