Trumann police chief vows better training for officers
Friday, August 10, 2012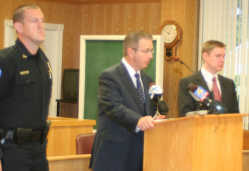 In the wake of the capital murder trial of the State v. Jerry Lard, Trumann Police Chief Chad Henson said that while the entire city has felt the loss of officer Jonathan Schmidt, who was fatally shot by Lard last year during a traffic stop, Schmidt would serve as the department's greatest trainer.
"We must learn a lesson," Chief Henson said. "This crime is not just something that can happen in large cities. It happened to us."
Chief Henson spoke along with Second Judicial Prosecuting Attorney Scott Ellington at a news conference this week in which video footage from Officer Schmidt's and Officer Corey Overstreet's dash cams was released to the media in accordance with Freedom of Information requests. Ellington said he had talked with the Schmidt family to alert them to the possibility that footage could be broadcast on the news during the next few days. He also requested that the media think of Schmidt's family and be cautious in what they displayed.
Chief Henson said the first steps had already been taken in getting officers better gear to help them on night traffic stops, such as lighter and brighter flashlights. He is also implementing more training for officers, including training for night traffic stop scenarios. "We call that a routine traffic stop," he said. "We have got to stop using that word 'routine.' A lot of officers only receive three to five months of training on traffic stops at the academy, and that's all the they ever get. We saw a need for more lessons such as how to handle traffic stops when it's dark. At the academy, they only train for traffic stops during the day. We'll do training at night and go over things like how to approach vehicles. This stop raised a lot of questions."
Chief Henson said that for him, having personally known and trained Schmidt, seeing the video from the dash cams was gut-wrenching. "Officer Schmidt could have been number one at the state police or at the FBI," he said. "To see this happen to someone that good sets us back. He'll be our greatest trainer."
Chief Henson added that Trumann had been rocked with tragedy the past few years with the death of Chief Larry Blagg, who was struck by a falling limb during an ice storm in 2009, and the death of Officer Schmidt but "the jury lifted us up. They brought swift justice. At the police department we've become more motivated, and we're ready to move on."
Ellington thanked the Greene County jurors for their decision in carrying out the death penalty on Lard, saying, "I have never heard a jury speak any louder or clearer than this Greene County jury did. The jury echoed the commitment of the community to protect those who protect us."
"The state of Arkansas believes Jonathan Schmidt and his family now have justice," Ellington said. "Their pain won't be voided, and it will never go away, but I pray they find peace."