Lepanto welcomes new medical doctor
Friday, August 17, 2012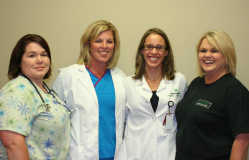 Originally from Jonesboro, Dr. Andrea Read had always looked up to small practice doctors in Jonesboro. "I really wanted to do that for a small community," she said.
Dr. Read recently joined the staff of Wagner Medical Clinic in Lepanto, where she said her primary focus would be preventative care and keeping people well.
A graduate Jonesboro High School, where she played basketball, Read went to Lyon College on a basketball scholarship where she was All American, team captain, and named Athlete of the Year her senior year.
Read graduated with a Bachelor of Science in Biology and moved to Washington, D.C., to work for NASA headquarters researching the anatomy and physiology of astronauts in space. At NASA, she studied rats and the changes in their bone structure, hormones, and sleep patterns when they go into space to help better understand how the conditions of outer space affect astronauts.
After three years with NASA, Read went back to school on a scholarship from National Health Service Corps. She studied osteopathic medicine at Philadelphia College and completed her residency at Thomas Jefferson University. She specialized in internal medicine and pediatrics. As part of her scholarship, she agreed to work in an underserved area for the next four years and is part of the Public Health Service Corps, which deploys medical workers to provide aid during disasters such as Hurricane Katrina, for example.
"I came back to Arkansas for family and because it was always my dream to come back and work in a small community," Read said. "Part of the medical field I always liked was the challenge of problem solving. I love having close patient/doctor relationships and having good interaction with families."
Read's husband works as a lawyer with Barrett and Deacon in Jonesboro. Together, they have a five year old son. Read said she has a very active family that enjoys traveling. They have traveled to many countries including Thailand, Korea, Taiwan, Australia, New Zealand, Mexico, Qatar, and Canada -- where her husband is from. She also runs 5-7 miles each morning and said she is always looking for running partners.
Read is working on a program to offer vaccinations for all children and sees patients of all ages. She said Wagner Medical Clinic also does sports physicals and preparticipation physicals.
"I love taking care of patients," she said. "I'm available any time."