Marked Tree purchases roller for street department
Friday, August 17, 2012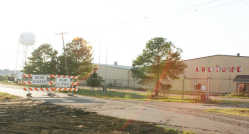 The Marked Tree City Council reviewed bids for a roller for the street department this week. The council voted 5-1 in favor of purchasing a 2010 roller with 111 hours on it for $8,600.
Alderman Shane Glenn voted against the purchase, saying he believed more extensive work was needed on the streets. "Putting coal mix in and rolling it is a waste of money in my opinion," Glenn said.
When Glenn asked about the cost of leasing a roller for a week whenever work needed to be done, Mayor Nichols said, "We've got holes all over town. We can't just go out and work a week."
Mayor Nichols also informed the council of a lawsuit being brought against the city by Jeremy Bond, former MT Police Department CID officer who was terminated last November.
Bond addressed the council in December regarding his termination. At that time, he told the council that he had transported an individual to a probable cause hearing in Harrisburg. Bond said he believed there was insufficient evidence for the charge but was told by Police Chief Chester Ford to take him anyway and let the judge decide.
Bond said after hearing the arrest report, Deputy Prosecuting Attorney Jimmy Gazaway concurred there was little evidence. The individual was released on his own recognizance.
Bond said that Chief Ford was angry with him for downplaying the case. When Bond denied downplaying the case, he claimed Ford responded by saying, "Who cares if the case doesn't go anywhere? As long as we get a charge on them, they have to be out the money for a lawyer and to post bond."
Bond said he countered by saying "that putting charges on people just to make them pay for attorneys when you know the case can't be made was a bad way to do business." Bond claimed Ford accused him of "protecting the dopers in town."
On Nov. 28, Bond was called into Ford's office and asked to submit his resignation or be fired on the grounds of poor job performance. Bond said he told the mayor he didn't feel it was right that he was being asked to resign, but was told by Nichols there was no need to argue about it and was instructed to clean out his office.
After he related his account of events to the council in December, the council entered executive session to handle the grievance. When they returned, they voted to uphold the termination.
At this week's meeting, Mayor Nichols told the council the attorney representing Bond had interviewed both himself and Chief Ford.
In other business, the council voted to hire a part time city employee to full time.
Mayor Nichols also gave an update on the rail spur being constructed for the Awesome Products facility. "It's coming right along," he said. "Hopefully they'll get in and out quickly."