Marked Tree Rotary Club given lesson on inspiration and self-determination
Friday, August 17, 2012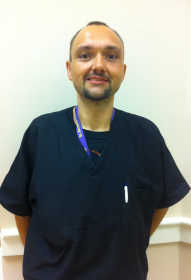 What course of action was left to take for Jamie Lisk of Harrisburg other than to find his self-determination and conquer his weight? Death was what Jamie was facing if he did not change his lifestyle through diet and exercise. "On Aug. 1, 2011, I finally found a scale at the Jonesboro Church Clinic that would weigh someone who weighed over 500 pounds," Lisk said.
With the doctor's permission and supervision, he began to lose his weight cold turkey. "I cut out all sweets, baked goods and sodas. I began drinking more water and exercising," Lisk said.
"Since I weighed over 500 pounds, I was not eligible for by-pass surgery," he said. "I began walking three miles a day and have included 600 sit-ups and 200 push-ups. I would weigh twice a week and kept a journal of my progression.
"My 'diet' consisted of oatmeal for breakfast, baked meats, a variety of fruits and vegetables. For the first six months, I did not eat any red meat. I did not have any major health problems to promote me to lose this weight. I only had the doctor's advice and my own knowledge of others who had kept putting weight on their body. I suffered from depression because I closed myself off from the world, my family, and my job. I knew if I continued on this path, death would be shortly follow."
Lisk had written a letter to his son explaining what was happening to his body and how he did not see himself surviving the out of control situation. "I was the only one who could change me," Lisk said. He keeps this letter as a token of inspiration on his bedroom mirror so it can be read daily.
"Yes people treat you differently when you are overweight. Kids are cruel because of their honesty. I was eating until I made myself sick. I didn't have the fullness trigger anymore because I had eaten so much," Lisk said.
On July 24, 2012, Jamie reached 215 pounds and has gone from a size 60 to a size 26. "I hope my story is an inspiration to others," he said. "They only have to remember: 'I am the only one who can change me' and it can be done!"