Lady 'Cats volleyball off to good start
Thursday, August 23, 2012
The Trumann Lady Wildcats volleyball team has started the season by winning both their games. They downed Bay this past Monday, 25-23, 25-21, 22-25, 25-16 and Harrisburg this past Tuesday, 21-25, 27-25,25-22, 25-18.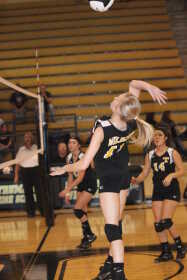 In the Bay match, Macey Davis was 27/29 serving with 15 assists, Scarlett Davis had 7 kills, Kelly Guthrie added 6 kills and 10 digs and Hannah Walters finished with 6 kills, 5 digs, 7 aces.
Against Harrisburg, Hannah Walters was 22/23 serving with 9 digs and 9 kills, Kelly Guthrie had 6 kills and 8 digs, Morgan Taylor added 7 kills, 4 digs and Macey Davis had 10 assists.
The Junior Lady Wildcats split the games winning over Bay and falling to Harrisburg to stand 1-1 on the season.