Revival Center Church clips coupons for soldiers overseas
Friday, August 24, 2012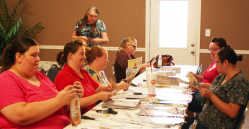 Members of Revival Center Church in Lepanto got together this week to sort through and clip thousands of coupons which they will send to military families stationed overseas.
Emily Nooner, who already loves shopping with coupons, said she heard about the Krazy Coupon Lady Overseas Coupon Program through a friend and got together with members of the church to collect coupons to send overseas.
According to the website that does the program, thekrazycouponlady.com, military families stationed overseas can use manufacturer coupons up to six months past their expiration date. The ladies of Revival Center Church spent several hours Monday night sorting through three and a half crates of coupons, separating food coupons from non-food coupons.
Nooner said she wanted to participate in this program after she heard about how high the cost of living is for military families overseas. "If we can help out in any way we can, we're doing a service to our country and to our people," she said. "It's also fun to get together and work together."
After the coupons, which Nooner estimated as being worth at least a couple thousand dollars, are divided up they will mail the coupons off to the KCL Overseas Coupon Program where they will be donated to military bases overseas.
Emily and her husband Daniel Nooner, who is pastor, have been at Revival Center Church for a year and half. In that time, she said attendance has tripled. They are very active in the community and can usually be spotted helping out with community events. "Anything our community does, we're involved in," she said.
The church puts on an Easter Extravaganza every year, is involved with the school and tries to give assistance to families who have lost family members or who need help with bills. "We try to help people in the community as much as we possibly can," she said.