Adult Education instructors speak to Trumann Rotary
Friday, August 24, 2012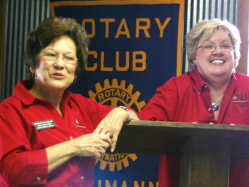 Three instructors from Adult Education Centers in Poinsett County spoke to the Trumann Rotary Club about their centers, the history of adult education and the future of the GED (General Educational Development) test.
Brenda Pipes, who has been an instructor for seven years at the Marked Tree Center, said that the modern GED was developed in 1942 by the American Council on Education as a way for the military as a way to ease veterans of World War II back into civilian life because so many soldiers were needed for the war and many were pulled out of school. During the 1950s, civilians began taking the test as a high school alternative.
Pipes said the adult education centers' primary focus is readying adults to take the GED, but they also work on skills needed to take the ACT and can help adults who want to improve their language and math skills.
Shirley Kausler, instructor at the Trumann center since 1991, said the GED is the only test of its kind recognized all over the U.S. There is currently no cost to take the classes or the GED battery of tests, which includes five sections testing writing skills, social studies, science, reading skills and mathematics. But that will change in 2014 when GED Testing Service releases a new version of the test. The new GED test will be online and will have a new format which does away with the essay questions and adds more open-ended questions.
"Arkansas is one of the few states that does not charge to take the GED," Kausler said. "We will have to adapt. Everyone adapts. We will too. There will be a charge."
The Marked Tree and Trumann centers are testing sites for the GED. Trumann was recently approved as a testing center last spring. In addition to preparing for the GED, some people just come to the center to learn more. Kausler told a story about a lady who came into her center the first year she taught there who wanted to learn basic math so she could balance her checkbook.
To enroll, students must be at least 16 -- students aged 16 or 17 must have written parental consent and an endorsement from a school superintendent or principal. "We never go into high schools and recruit," Kausler said. "Most of ours come through the court system or are home schooled. We recruit mainly through referrals."
The Trumann Rotary Club is also selling tickets for pork steak plates from Strawberries as part of an annual fundraiser. Plates are $16 a piece and can be picked up from 4-6 p.m. at the Trumann Fire Station on Sept. 14. Tickets are available from any Rotarian.