Delta Environmental meets with Lepanto City Council
Friday, August 24, 2012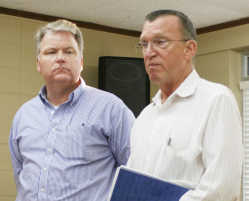 Since April the Lepanto City Council has expressed a desire to terminate their contract with Delta Environmental. The company went into bankruptcy two years ago, and city hall has been fielding numerous complaints about trash pickup on a daily basis.
Delta Environmental owner Glen Eaton and Senior Vice President Bob Cordrick spoke with the council at this month's meeting Tuesday night. Eaton said the company has a plan for reorganization and is in the process of recapitalizing, which means they can now start updating equipment. They talked improvements they are planning to implement, such as putting sprayers on trucks to take care of spills, and offered to fix problems like wheels being broken on containers, which Eaton attributed to a training error.
Mayor Jernigan said the city wants out of the contract because of the numerous complaints city hall has received regarding Delta. City Attorney Noyl Houston said he had believed that a tentative agreement had been reached between the city and Eaton to terminate their contract on Oct. 31. However, Eaton confirmed three times he never authorized his lawyer, James Dowden, to enter into such an agreement with Lepanto and that he only authorized that agreement with Tyronza. "It's hard for me to believe Jim Dowden would say something he wasn't authorized to do," Houston said.
In other business, the council approved Gary Finley to fill a vacant position on the Board of Commissioners of Lepanto Housing Authority.
The council also heard from Captain David Layman of the Lepanto Police who said police will increase their enforcement of traffic violations in school zones. Layman said there have been a lot more accidents near the school.
"We will be enforcing safety regulations," Layman said. "The laws were written for a purpose: for the safety of kids."
He mentioned talking on a cell phone while driving in a school zone is now considered a secondary offence. He also confirmed for the council that they will have one or two officers in the school zone in the mornings to help with traffic.