Gazaway discusses mediation with Trumann city council
Friday, August 24, 2012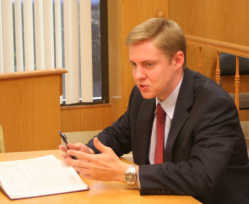 City Attorney Jimmy Gazaway met with the Trumann City Council this week during a special meeting to discuss mediation with Erik Willbanks. Wilbanks was terminated from the police department earlier this year after an investigation into former police chief Tony Rusher revealed Willbanks knew Rusher was using prescription medication from the evidence room and Willbanks had gone into to the evidence room to get the medication for him several times. Willbanks eventually told assistant chief Gary Henry when he realized Rusher had a serious problem and was later terminated by the mayor with the council's approval.
Gazaway told the council he had been contacted by an attorney representing Willbanks who is considering filing a claim against the city under the Arkansas Whistleblower Act.
Willbanks' attorney had asked Gazaway if the city was willing to submit to mediation. During mediation Gazaway and Mayor Sheila Walters would meet with Willbanks, his attorney and a third party to negotiate a settlement. Gazaway told the council that he believes the city is not required by law to attend mediation and there can be no mediation once a lawsuit is filed against the city.
Gazaway also mentioned Willbanks' attorney had wanted to use a private mediator, which comes with a cost. By law, Willbanks' attorney would have to file paperwork with the Office of Personnel Management through the Office of Finance Administration. "To my knowledge, he has not done that," Gazaway said. "Provided they do that, the decision is on the city of whether we go or not." The Office of Personnel Management would then choose a mediator at no charge.
The council decided to take no action until Willbanks' attorney goes through the proper channels.
Regarding prosecution of Willbanks, Gazaway said, "My understanding is that's been referred out to another prosecutor. It's not anything I have much to do with. A special prosecutor in another part of the state is reviewing the case. He will decide if charges will be brought up against Willbanks." Gazaway added that if Willbanks is criminally charged, he could still bring a lawsuit against the city.