Tyronza Senior Citizens Dream Finally Realized
Friday, August 24, 2012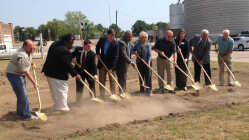 Since Mayor Marion Bearden took office 10 years ago, she has seen the need for a senior citizen facility. She also realized it would take the talents of many to see it through to reality. She was thankful to many for their assistance in keeping the ball rolling toward the completeion of the Tyronza Senior Citizen Center.
Senators Pryor and Boozman, as well as Congressman Crawford, were unable to attend in person but sent staff with letters of congratulations on a project well worth the time and effort put forth by the Mayor and citizens of Tyronza. Lawrence McCullough, USDA Rural Development, and Jean Noble, Arkansas Economic Development Comission, also spoke of the hard work and dedication Mayor Bearden and the citizens of Tyronza put forth to see the fruits of their labor.
Rob Norcross, architect with LRK, Inc. and former Tyronza resident, found this project to be the hardest to make sure the senior citizens past, present and future have a facility worthy of Tyronza pride. Reeder Smith was on hand as the representative for the Tyronza Senior Citizens.
After remarks were concluded, all present moved outside for the ground breaking with the traditional golden shovels.