Community honors Trumann standouts
Thursday, August 30, 2012
Trumann held a city wide pep rally this past Friday at Wildcat Field. The pee wee teams up to the high school team were introduced to the city.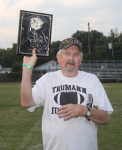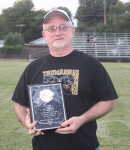 Seven individuals were honored for their contributions to school and their achievements after high school.
Joe Hollimon was honored but was not in attendance. Hollimon graduated from Trumann in 1971 before playing his college ball at AUS. Hollimon had a stellar career in the Canadian Football League winning five Grey Cups with the Edmonton Eskimos.
Elbert Shelley was also honored but was unable to attend. Shelley graduated in 1982 and continued his career at ASU. Shelley was then drafted by the Atlanta Falcons where he played for 10 seasons. Shelley made the pro bowl team four times.
William Carter was the first to presented with a plaque for his 40 years of service on the chain gang at the football games.
Rick McKenzie was honored for being the voice of the Wildcats for the past eight years. McKenzie will be replaced in the box by Ronnie Dye.
Wayne Hinds was honored for is six touchdowns and extra point he scored while amassing 317 yards rushing against Marked Tree in 1955. Hinds was called "Wing-footed Hinds" in the paper back in those days.
Jimmy Creecy was next to be honored for breaking the 56-year old scoring record set by Hinds. Creecy scored seven touchdowns against Paragould last season. Creecy rushed for 307 yards in that game. Hinds presented Creecy with his plaque.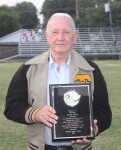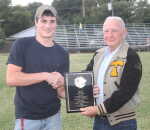 Lynn Greenwell was the last to be honored. Greenwell spent 41 years in the Trumann School district with 25 of those being the head football coach. When asked about his success as a coach, he was reluctant to speak about himself. He said his philosophy was, "Take care of the kids. Work them hard and things will be fine. Kids will do what you expect out of them." Asked about motivating his players Greenwell said, " It wasn't really about stressing winning or losing, but I asked the players to do the best they could."