New Principals start at Trumann schools
Friday, August 31, 2012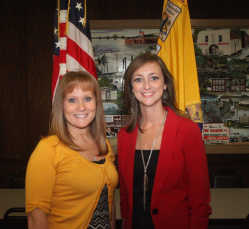 Wanda Van Dyke, Trumann High School, and Jennifer Jaynes, Cedar Park Elementary School, were the guest speakers at the Trumann Lions Club weekly meeting on August 15. Van Dyke and Jaynes, both Trumann graduates, start their first year as principals at Trumann.
Jaynes is a 1999 graduate of Trumann. She comes to Cedar Park having worked in the Nettleton School District. She and her husband Zachary have been married 13 years and have two children, Payton and Preston.
Van Dyke graduated from Trumann in 1990 and comes to Trumann from the Jasper School District. She and her husband Rick have been married for five weeks. Van Dyke has three kids, Rebecca, Colton and Jarrett.
Each principal talked about the technology that will be available at the schools this year. Ipads and MacBooks will be used by the teachers and students as tools to help with learning. "The technology is the tool, but are teachers are the talent," Van Dyke said.
They both stressed the goals of parental and community involvement for the upcoming school year. Both want to see parents involved with the school and the need for individuals to volunteer time at the school. Reading and mentoring were two areas mentioned with teachers having needs for their individual classrooms.