Trumann native one of three named as ASU Distinguished Alumni
Friday, August 31, 2012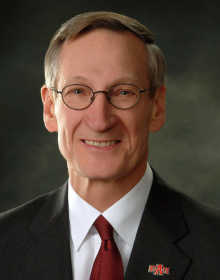 Trumann native Howard Slinkard of Rogers, a senior member of the Slinkard Law Firm in Rogers, is one of three outstanding individuals chosen by the Arkansas State University Alumni Association for recognition as one of the university's Distinguished Alumni.
The Distinguished Alumni presentation ceremony, now in its 29th year, will be held at halftime of the homecoming football game Saturday, Oct. 13.
Since 1984, the ASU Alumni Association's board of directors annually selects Distinguished Alumni award recipients from nominations submitted by the public. Selection of nominees is based on community service, professional achievement and service to ASU.
Other honorees this year are Neil Crowson and Beverly Nix of Jonesboro.
After graduating from Trumann High School, Slinkard received a bachelor's degree from Arkansas State University in 1969 in Arts and Sciences with a political science major. He also earned a Juris Doctor degree from the University of Arkansas in Fayetteville.
He and his wife, Karen Thompson Slinkard, who also graduated from ASU in 1969, are 1924 Sustaining Life Members of the ASU Alumni Association. He has been a member of the Arkansas State University Board of Trustees from 2007 to the present. Previously serving as chair, he has been reappointed through January 2017.
In continuing support to ASU, he is a member of the Red Wolf Club, as well as the Northwest Arkansas Red Wolf Club which he helped organize. He is a donor to ASU's Political Science department and helped organize the ASU Golf Tournament in Northwest Arkansas to benefit university athletics.
Professionally, he is a member of the Arkansas Bar Association and the Benton County Bar Association. He is a Fellow of the Arkansas Institute of Politics, as well as an Arkansas Bar Fellow, and has served on various Bar Association committees. He is a member of Arkansas Volunteer Lawyers for the Elderly and is noted for having performed pro bono legal services for those in need. He serves on the board of directors for First Western Bank.
In service to his community, he served two terms on the Northwest Arkansas Community College board of trustees, was president of the Rogers Lions Club, chaired the Benton County Cancer Society, served on the Rogers Parks and Recreation Commission and Benton County Habitat for Humanity, helped organize the Rogers PeeWee Basketball Program and volunteered for the chain crew at Rogers High School football games for 30 years.
Crowson, a native of Rector, is president and chief executive officer of E.C. Barton and Company, one of Jonesboro's oldest companies. He earned a bachelor's degree in agriculture from ASU in 1975. Under his leadership, E.C. Barton and Company has expanded both its sales and profit centers, currently operating more than 125 locations in 16 states.
His community activities include service as a board member of St. Bernards Healthcare and his membership on their executive committee. He also is chair of the Jonesboro Economic Development Corporation and a member of its executive committee.
Crowson serves on the Northeast Arkansas Industrial Development Commission and is a board member for the Arkansas Economic Development Foundation. He is a Pillars Member of the Jonesboro United Way and is a member of the Arkansas Good Roads Association.