Massey shares passion for ethics with Trumann Rotary
Friday, August 31, 2012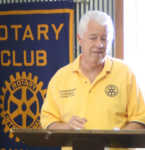 Since 1985 Rotary International has donated millions of dollars and tens of thousands of volunteer hours toward the eradication of polio. Guinn Massey, a charter member of the Sherwood Rotary Club who has been presenting programs to Rotary Clubs for the past ten years, told the Trumann Rotary Club last week that while polio eradication is near, he believes there is another disease Rotary clubs can work to eradicate: the disease of greed.
"I have a real passion for Rotary and ethical values," Massey said. "As a Rotarian, if you care about ethical values and watch the news, it's very disheartening."
After citing several examples of news stories that showed a lack of ethical values, Massey wondered aloud if winning at all costs has become the standard operating procedure in the business world.
Massey makes a point to visit a local Rotary Club any time he is out of town or out of the country on vacation. He said that seeing the enormous difference Rotary has made in people's lives around the world convinced him that Rotarians have an opportunity and an obligation to change people's lives by sharing Rotary values with them, especially the Four-Way Test.
The Four-Way Test was developed in the 1930s by Herbert J. Taylor as part of his plan to save Club Aluminum Products from bankruptcy. The test was adopted by Rotary in the 1940s when Taylor was an international director of Rotary. The Four-Way Test is: 1. Is it the truth? 2. Is is fair to all concerned? 3. Will it build goodwill and better friendships? 4. Will it be beneficial to all concerned?
Massey encouraged Rotarians to share the Four-Way test with not only people in their workplace but with everyone they know. "If we share the Four-Way Test with people, it will make a difference," he said. "You might open their eyes to an issue they didn't want to think about. You might be the person they respect enough to change."
"If we leave the Four-Way Test at the meeting, it only has an impact on people at the meeting. If we share it with everyone, it has an impact on their lives," Massey said.
One of the ways Massey's Rotary Club in Sherwood, Ark., has shared ethical values with the community is to hold an ethics award ceremony for students and their families to reward ethical behavior in students. "The reason the student was nominated is read to the audience," Massey said. "The look on parents' faces when they hear the good things their kids do is priceless."
"Ethical behavior doesn't just happen. It takes a conscious effort, but it is contagious," he said.
Massey is Executive Assistant Governor of Rotary District 6150 and District Chair of Vocational Service. He is a multiple Paul Harris Fellow and has visited over 160 Rotary Clubs in 25 states and six foreign countries.