Making memories: Razorback Football
Friday, September 7, 2012
This sports reporter had one of the most awesome times in his career this past Saturday. Usually using the phrase "Making Memories" for the photos I take of kids playing sports, I had that phrase used on myself as I had the privilege of shooting photographs on the sidelines at Donald W. Reynolds Stadium in Fayetteville as the Razorbacks hosted the Jacksonville State Gamecocks in their season opener.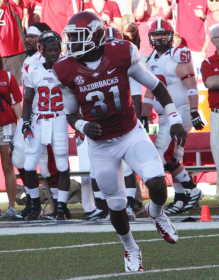 Making the experience even better was the opportunity to shoot photos of A.J. Turner of Lepanto and Morgan Linton of Lonoke. Turner was a gridiron great for East Poinsett County high school. Turner was on the kickoff and kickoff return team. Linton,a standout fullback from Lonoke High School, is the son of Mike and Jennifer Cash Linton.
I also had the chance to see and talk to a young man I covered in high school sports while living in Alabama. Chad Sharp is a redshirt freshman who plays linebacker and does deep snaps. He didn't see playing time in this game.
Jacksonville, coached by former Razorback coach Jack Crowe jumped out to an early 14-7 lead before Tyler Wilson righted the ship and led Arkansas to a 49-24 victory.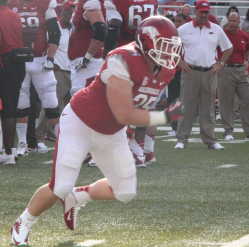 I'll get another chance to be on the sidelines when Arkansas hosts Ole Miss at War Memorial Stadium in Little Rock on October 27th.
I'd like to thank Zack Higbee, Director of Football Media Relations, for helping this reporter have a couple memories he'll never forget.