Jr. Wildcats drop thriller to Hoxie
Friday, September 7, 2012
The Trumann Junior Wildcats opened their season last Thursday by hosting the Junior Mustangs from Hoxie. Playing in on and off rain, the game was not decided until the last play of the game.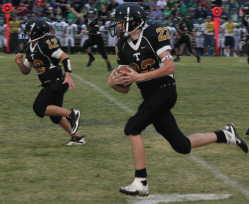 The first quarter of play saw the teams swap series as Trumann turned the ball over on downs before Hoxie was forced to punt. Trumann was again stopped on downs and the quarter ended with Hoxie having the ball in Junior Wildcat territory.
Hoxie got on the board first as they scored on a short run and added the two-point conversion with 6:08 left in the half. Nick Elrod scored with 3:49 left in the half on a 49-yard run before Garrett Woods hit Trey Moody for the two-point pass play to tie the game at 8-8. The tie didn't last long as Hoxie returned the kickoff for a touchdown and added the two-point conversion to go up 16-8 with 3:33 left in the second quarter. Fumbles ended the next drives for both teams as Trumann fumbled on the Hoxie 20-yard line and Hoxie fumbling on the Trumann seven-yard line with Rico Moreno recovering with 36 seconds left in the half. Hoxie takes a 16-8 lead into the half.
Neither team could find the end zone it the third quarter and the fourth quarter started with Hoxie still leading 16-8.
Lorenzo Buchanan pulled Trumann to withing two with a 77-yard jaunt for the touchdown. The two-point conversion failed making the score 16-14 with 7:46 left in the game. Hoxie looked as if they were on the way to score again when Kevonte Andrews intercepts a pass to set Trumann up for one final drive with 2:30 left. A Woods pass to Moody for 35-yards gives Trumann the ball on the Junior Mustangs 26-yard line with 36 second left to play. Alex Santos lets the ball slip through his hands with less than 10 seconds to play setting up one final play for a possible win for Trumann. Woods rolled out right and threw to his receiver in the end zone only to have the pass intercepted as time expired giving the Junior Mustangs the 16-14 win.
"We put ourself in position to win the game. We had a dropped pass in the end zone before running out of time," Wallis said after the game.