Mustangs run away from 'Cats
Friday, September 7, 2012
The Trumann Wildcats opened their season last Thursday against the Hoxie Mustangs at Wildcat Field in Trumann. The visitors used a potent ground attack on their way to a 41-12 victory.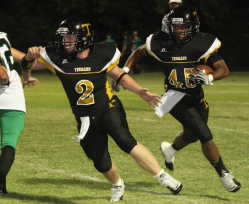 Hoxie took the opening kickoff and drove down the field and punched in a short touchdown run for the game's first score. The extra-point try was good giving Hoxie and 7-0 lead with 7:33 left in the opening period. A.J. Winningham hit Nate Maxwell with a 30-yard touchdown pass with 5:26 left in the first to cut the lead to 7-6. Trumann's two-point try failed leaving the score 7-6 Hoxie. Hoxie again takes the Wildcat kickoff and marches down the field and scores on a short run before adding the extra-point for a 14-6 lead with 2:50 left in the first period.
Winningham scored on an 18-yard quarterback keeper to cut the lead to 14-12 with 10:03 left in the second period. The two-point try failed leaving the score 14-12 Mustangs. Hoxie added two more scores before the half with one coming on a 37-yard punt return with 7:25 left and the other on a 54-yard run with 1:00 left before half. Hoxie added one of two extra-points to go in the locker room with a 27-12 lead. Winningham was shaken up late in the second quarter and was questionable for the second half.
Trumann received the second half kickoff and had a good drive going before Cameron Wright fumbled with Hoxie recovering at the Wildcats 43-yard line. Hoxie capitalized on the turnover as they had a 15-yard touchdown run and successful point after to go up 34-12 with 5:27 left in the third.
Hoxie scored the final points of the game with 11:10 left in the game and adds the extra-point to set the final score at 41-12.
Winningham did not play the second play the second half. It was later revealed that Winningham had broken the humerus bone in his left arm and will be out four to six weeks.
"We came out and answered the bell thinking it was going to be a shoot out," White said of the game. "We are having to tinker a bit moving Cameron Jones to quarterback, but it won't change our offensive set up much," White added.