Watts guest speaker of Lions Club
Friday, September 7, 2012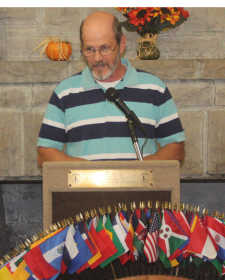 Greg Watts of the Arkansas River Association (ARA) was the guest speaker of the Trumann Lions Club Aug. 29. He talked to the group about the rivers and streams of Arkansas.
Watts said there has been lots of progress over the years but with progress there is usually a cost. He told of a lot of the places he fished growing up which are now dried up.
He said the ARA is a group of concerned citizens who came together to try and make a difference. Their main focus is on rivers and streams.
"If the river is in good shape, the land around it it is usually in good shape," Watts said.
There is a new state water plan being developed, with the last plan being from 1985. That plan did not take into account the agricultural need for water. We are taking more water out of the ground that gets put back in.
CDM Smith has been hired to draft a plan to help meet our water resource issues. It will be presented to the legislature in 2014 and if passed will last through the year 2050.
The major emphasis of the new plan will be to capture surface water for future use. Dams may be the answer even though they have not been mentioned, Watts told the group. If dams are used, it may cause the loss of some of the smaller rivers like the Strawberry River. The Strawberry holds 50 percent of all the species of fish in the state.
The Arkansas Land and Water Foundation is a 501C3 land trust created to help save land in the state. This is a statewide land trust. There are three ways the trust works, Watts said. (1) "We purchase your land and use if for public use such as hunting, fishing or outdoor recreation. (2) You can donate your land and it will be used in the same manner as above. (3) You can put your land in a permanent conservation easement. The land is still yours and can be used for the same purpose as it presently is. The main thing is you cannot change the land. It has to stay the way it was when you entered into the easement. If the land is sold or passed down to a family member, it has to stay the same way as when the land entered the easement. It will stay that way forever."
Watts closed by saying, "How we take care of the land has a whole lot more to do with the quality of our rivers and streams than what we are doing out on our river and streams. When the stream bank is in good shape, that stream is in good shape."
Persons can go to www.arlwf.org for more information about the Arkansas Land and Water Foundation.