Judd Hill Plantation hosts 15th annual cotton field day
Friday, September 7, 2012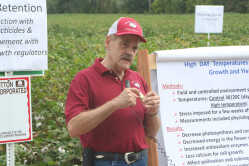 Hundreds of farmers and students toured the Judd Hill Plantation last week for its 15th annual cotton field day. The field day tour included several stops along the 33 acres of cotton set up as a research station in 2004 through a partnership between Judd Hill, the Judd Hill Foundation, University of Arkansas and Arkansas State University.
During the tour, people learned about experiments being conducted concerning cotton sustainability, soil moisture monitoring, seedling vigor and the effects of high temperature on cotton.
Guest speakers included Congressman Rick Crawford and newly appointed Secretary of Agriculture for the state of Arkansas Butch Calhoun.
Calhoun said that prior to the Department of Agriculture forming in 2005, Arkansas was one of two states -- the other being Rhode Island -- without such a department. "Agriculture is the heart of Arkansas," Calhoun said. "My job is to see we stay at the front." After talking about different types of farming operations he has toured around the state, he said, "Arkansas is so diversified. We're all in this together. As long as I have this job, I will do as much as I can to help agriculture."
Calhoun farmed rice for 33 years, ran a small trucking company hauling mostly agricultural products and served 11 years on a local agricultural bank board before the bank sold to a larger regional bank. He was elected to five terms as Prairie County Judge, served four terms in the Arkansas House of Representatives, served as Chairman of the Central Arkansas Solid Waste District and was Vice Chairman of Central Arkansas Planning and Development District. From 2007 to his appointment as Secretary of Agriculture on July 1, 2012, he served as the Director of the Department of Rural Services.
Rick Crawford discussed his spill prevention bill, which was recently approved by the House of Representatives, and the farm bill.
Of the spill prevention bill, he said it would exempt farms with on-farm fuel storage of less than 10,000 gallons from having to get certified. Farms with 10-42,000 gallons would be allowed to self-certify, and only farms beyond 42,000 gallons would be required to receive certification. "This would save $240 million for Arkansas farmers," Crawford said. "It would save $3.36 billion for U.S. farmers. The bill didn't have any opposition. It passed out of the House on a voice voted and is now in the Senate. Our two senators have promised to help shepherd it through."
Of the farm bill, Crawford said he had learned that leadership on both sides of the floor do not want to pass it, some because they feel it spends too much and some because they feel it spends too little. "With the drought, we need a farm bill, and we need it now," Crawford said. He said he hopes a farm bill can be delivered but the clock is ticking and a one-year extension would not be favorable to the current bill.