Delta Environmental converts to Chapter 7 bankruptcy
Friday, September 7, 2012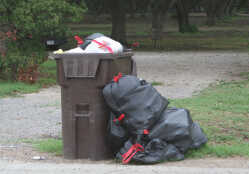 Last Friday as Labor Day weekend kicked off, the city of Lepanto found itself with a problem. Only half the town's garbage had been picked up, some of the garbage left had already been sitting out for a week and Delta Environmental had closed its offices.
Lepanto Mayor Steve Jernigan said when he contacted a Delta Environmental representative that morning he was told that Delta did not get financing when they expected to, were unable to make payroll and had decided to convert its bankruptcy status from Chapter 11 to Chapter 7, meaning the company is in liquidation.
Mayor Jernigan met with council members that morning to discuss the trash issue and get input. Jim Dedman of Dedman's Sanitation out of Bay offered to do trash pickup temporarily for $150 an hour per truck, but because of dump hours during the holiday weekend, the soonest he could start was Tuesday.
"We're in a crisis situation," Mayor Jernigan said. "Right now we don't know what's picked up and what's not picked up. There's stuff overflowing, some of it's been there seven or eight days. It's just hit and miss all over town."
Dedman offered to do trash pickup this week to get the whole town picked up. Mayor Jernigan said the city would run an ad for bids for a sanitation service to permanently replace Delta. He also said he had a verbal agreement with Delta that allowed the city to use Delta's containers until a permanent replacement is found.
The city of Lepanto has been discussing ending their contract with Delta Environmental for months now. Owner Glen Eaton and Senior VP Bob Cordrick met with the council last month to discuss issues, talking about improvements they planned to implement, such as adding sprayers to trucks to clean spills. The city would not have been able to get out of their contract until the end of the year but was trying to get out by an earlier date. When city attorney Noyl Houston questioned whether or not a tentative agreement had been reached to terminate the city's contract by Oct. 31, Eaton said he had only authorized his attorney to terminate Tyronza's contract by that date, not Lepanto's.