Junior Warriors down Bobcats
Friday, September 14, 2012
The EPC Junior Warriors evened their record last Thursday with a 34-6 win over the Walnut Ridge Junior Bobcats. The Junior Warriors are 1-1 on the season.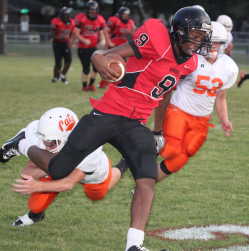 Malik Monk recovered a Walnut Ridge fumble on EPC's 13-yard line to end the opening drive by the Junior Bobcats. Clay Malone hooked up with Monk on the first play from scrimmage for an 87-yard touchdown pass. Des Barnes added the two-point conversion run to put the Junior Warriors up 8-0 with 4:26 left in the opening quarter. Barnes picked up a Bobcats fumble and returns it 21-yards for the touchdown. Malone is stopped on the two-point try making the score 14-0 EPC with 1:34 left in the first.
The teams exchanged possessions to start the second quarter. The game was stopped briefly in the second quarter as EPC's Zach Brooks suffered a dislocated knee cap. Austin Smith recovers a Walnut Ridge fumble that leads to a Malone to Monk 20-yard touchdown pass. The duo hooked up for the two-point pass play to set the score at 22-0 EPC.
Barnes adds his second touchdown of the night as he returns a Junior Bobcats punt 36-yards for a touchdown. The two-point try is no good leaving the score 28-0 Junior Warriors with 1:44 to go in the third quarter. The Junior Bobcats get on the board with a 10-yard run with 14 seconds to go in the third quarter. The two-point try is stopped leaving the score 28-6 after three quarters of play.
Barnes scored his third touchdown of the game with a 38-yard touchdown in the final quarter. The two-point try is no good setting the final score at 34-6.
Barnes led EPC with 75 yards rushing scoring three touchdowns on the night. Monk had 118 yards receiving with two touchdown catches. Malone completed three of four passes for 118 yards and two touchdown passes.
Kyler Gordon recored six tackles on defense with two of those being sacks. Monk added five stops and recovered three fumbles.
"The guys came out and played hard tonight," EPC Coach Brian Weathers said after the game. "I'm extremely proud of these guys," Weathers added.
The Junior Warriors will travel to Cross County this Thursday. Kickoff is at 7.